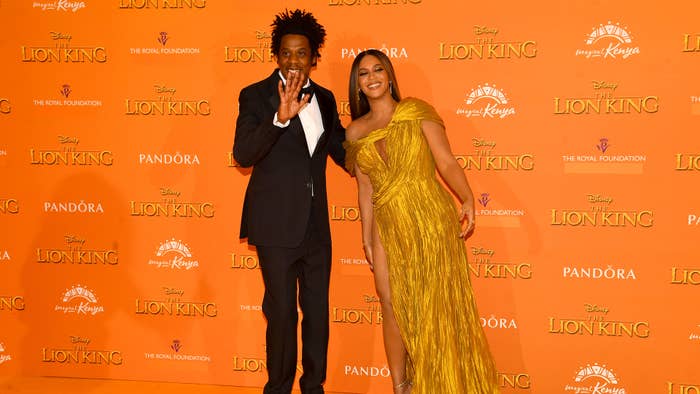 Beyoncé and Jay-Z recently appeared in a new campaign from Tiffany & Co. that featured a never-before-seen Basquiat original, and friends of the artist aren't happy about it.
In a new report from the Daily Beast, several close friends and collaborators of the late artist Jean-Michel Basquiat, who died in 1988, have spoken out against the campaign. It should be noted that the same painting, Equals Pi, will be permanently on display in Tiffany's flagship Fifth Avenue store.
"I'd seen the ad a couple days ago and I was horrified," said Alexis Adler, who lived with Basquiat in 1979 to 1980. "The commercialization and commodification of Jean and his art at this point—it's really not what Jean was about." She added that if Basquiat were alive today, he would've wanted his paintings readily available for the public to see at museums.
"Unfortunately, the museums came to Jean's art late, so most of his art is in private hands and people don't get to see that art except for the shows. Why show it as a prop to an ad?" said Adler. "Loan it out to a museum. In a time where there were very few Black artists represented in Western museums, that was his goal: to get to a museum." 
Al Diaz, who worked with him as a teenager on their street art duo SAMO, criticized the way Tiffany tried to excuse the use of his paintings by focusing on Basquiat's much-documented interest in luxury. "People think that his association with luxury was because he was impressed with that shit, but he couldn't care less," Diaz said. "It's not just about wearing an Armani suit. If he wore it, it's because he could buy it and fuck it up, it wasn't because the stitches were fabulous or well-made."
Stephen Torton previously worked as Basquiat's assistant, and thinks that Tiffany stores wouldn't have even let Basquiat in their stores when he was alive. "They wouldn't have let Jean-Michel into a Tiffany's if he wanted to use the bathroom, or, if he went to buy an engagement ring and pulled a wad of cash out of his pocket. We couldn't even get a cab," said Torton.
The Tiffany campaign, which unveiled last month, features photos by Mason Poole. In a statement, Tiffany's executive VP of products and communications said that the company had a feeling the color choice in the painting "has to be some kind of homage" to the brand.