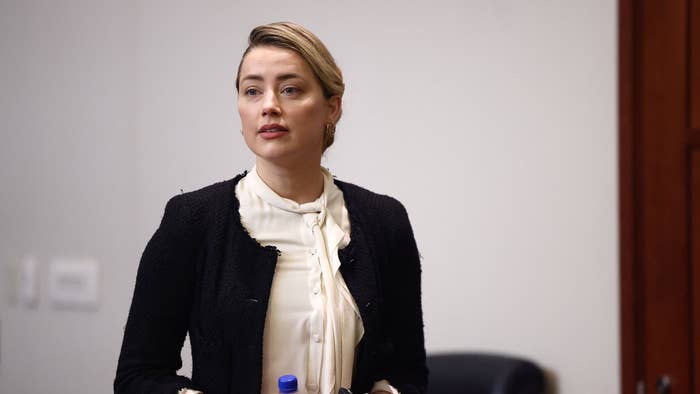 Heading into her appeal of the Johnny Depp defamation trial verdict, a spokesperson for actress Amber Heard has confirmed she's hired a new legal team.
Per People, Heard will be represented by a different selection of lawyers in her appeal of the verdict, which awarded her ex-husband with over $10 million in damages. "When it comes to protecting the fundamental right of Freedom of Speech, we look at the jury's decision—to paraphrase a famous quote—not 'as the beginning of the end, but merely the end of the beginning,'" reads the spokesperson's statement. "A different court warrants different representation, particularly as so much new evidence is now coming to light."
Heard has hired David L. Axelrod and Jay Ward Brown of Ballard Spahr to represent her, with co-counsel duties carried out by Ben Rottenborn, who previously served as co-counsel for the 36-year-old. The lawyer who represented her in the Virginia trial earlier this year, Elaine Charlson Bredehoft, is stepping down. "This is the perfect time to pass the baton," said Bredehoft. "I have pledged to Amber and her appellate team my complete cooperation and assistance as they move forward on a path towards success."
Her new legal team most recently defended publication The New York Times in a defamation suit filed by former Alaska governor Sarah Palin earlier this year. "We welcome the opportunity to represent Ms. Heard in this appeal as it is a case with important First Amendment implications for every American," the two layers said in a joint statement. "We're confident the appellate court will apply the law properly without deference to popularity, reverse the judgment against Ms. Heard, and reaffirm the fundamental principles of Freedom of Speech."
Heard and her legal team submitted documents last month to appeal the trial verdict last month. Depp sued Heard, who accused him of domestic violence, for $50 million in response to an article published in the Washington Post in which she said she was a survivor of domestic abuse. She did not name him in the article, but the jury determined that she had defamed him with false statements "made with actual malice."