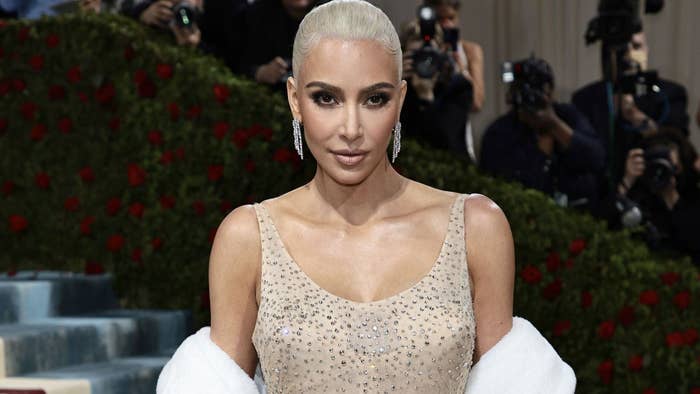 Kim Kardashian covers Sports Illustrated Swimsuit issue, and she's doing some self-reflection in the process. 
The mother of four penned a letter to herself for the issue, titled "A Letter To My Younger Self," in which she gives her past self a little advice. 
"It's easy to say to just ignore the criticism, but another thing you'll learn is that at some point it will click in your head that it's not about you anymore. It's about family. It's about helping other people. For years you'll be putting yourself out there," Kardashian writes. "But you're going to become a more private person and you're going to come to realize that the way to get your story out there—the actual narrative, the truth—isn't by engaging but by doing."
Kardashian continued in the letter, sharing that as she gets "to May 2022, you're not going to be content."
"You're still going to be looking for that next 'it'…And when you find it, you're going to do it — we're going to do it —like we always do: to the fullest," she writes.
Being featured in the 59th installment of the issue came as a bit of a surprise to Kim, as she told SIthat she thought "you had to be a professional model and a runway model" to make it on there. That, of course, is not the case, as Kardashian has reached yet another milestone in her career. 
"It was always really young girls. I don't want to date myself or sound old," she said. "But in my 40s? That's crazy! I never thought in a million years that I would be shooting one myself."
The other Sports Illustrated cover stars include Ciara, model and activist, and mother of Elon Maye Musk, and model Yumi Nu.
Also on Monday, SKIMS tapped Rosalía for a new campaign, which features looks from the brand's Cotton Collection. The singer shared in a release that the looks are "so comfy and make me feel very sexy at the same time. I'm so excited that I finally got the chance to collaborate."