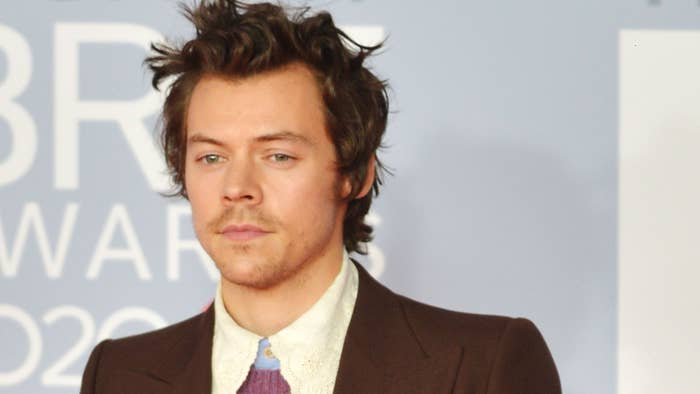 Harry Styles may be a Marvel man now after appearing in the end credits of the studio's latest film Eternals, but director Chloé Zhao had him in mind for a while. 
Before the One Direction alum made his debut in the MCU via a mid-credit scene, Zhao explained to Deadline that Harry and his character of Eros were a "package deal."
"And then, it wasn't like I suggested Eros, and let's go find actors,"she shared. "I kept tabs on Harry since Dunkirk, I thought he was very interesting."
Zhao said she "pitched the idea" of Pip the Troll—voiced by Patton Oswalt—and Eros to Marvel Studios' Kevin Feige – she personally liked "exploring an Eternal who is beyond Titan and who may have influenced Thanos throughout the years the same way Eternals influenced us, earthlings."
As she explained, Styles—who will soon be appearing in Olivia Wilde's Don't Worry Darling alongside Florence Pugh, as well as My Policeman—only made sense as the brother of Thanos. 
"After meeting him I realized he is that character — the same way I cast the rest of my cast. There's so much of Eros in him. For me, if he says yes, and Kevin says yes, then it's a go. And I'm very happy they both did," Zhao said. 
The film has also gained attention, outside of it's pop-star cameo, for reportedly being banned by some Gulf Nations over featuring a same-sex relationship.
"I'm sad for [those audiences]. And I'm proud of Marvel for refusing to cut those scenes out," star Angelina Jolie told news.com.au. "I still don't understand how we live in a world today where there's still [people who] would not see the family Phastos has and the beauty of that relationship and that love."
In recent Harry news, Billy Porter has apologized for his comments about the singer, who has opened up about his sexuality, becoming the first solo man on the cover of Vogue, where he famously wore a dress last year. 
"The conversation is actually deeper than that, it is about the systems of oppression and erasure of people of color who contribute to the culture," Porter said.