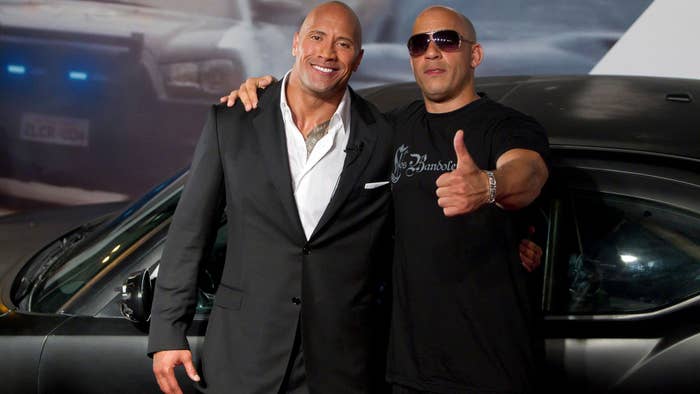 Dwayne Johnson is opening up again about Vin Diesel's claims that Vin gave him "tough love" on the Fast & Furious set. 
Back in June, Diesel explained to Men's Health that he personally "could give a lot of tough love" on set, calling it "not Felliniesque, but I would do anything I'd have to do in order to get performances in anything I'm producing."
Now, speaking for the November cover of Vanity Fair, the Rock called Diesel's comments "bullshit," with writer Chris Heath mentioning Johnson "at first simply bellows with laughter."
"One part of me feels like there's no way I would dignify any of that bullshit with an answer," Johnson then said. "I've been around the block a lot of times. Unlike him, I did not come from the world of theater. And, you know, I came up differently and was raised differently."
Adding to that assertion, Johnson explained he comes from a "completely different culture and environment," and that he goes into each project giving it his "all."
"And if I feel that there's some things that need to be squared away and handled and taken care of, then I do it. And it's just that simple," the 49-year-old said. "So when I read that, just like everybody else, I laughed. I laughed hard. We all laughed. And somewhere I'm sure [late filmmaker Federico] Fellini is laughing too."
Johnson added that he only returned to the eighth installment of Fast under the condition that he and Diesel shared no scenes together, in an effort to "forgo drama." He elaborated on what led to his "#ZeroToleranceForCandyAsses" Instagram post when he took a shot at his co-star, and said "nothing specific happened, just the same old shit."
"It caused a firestorm," Johnson said of the headline-making Instagram post. "Yet interestingly enough…[it was] as if every single crew member found their way to me and either quietly thanked me or sent me a note. But, yeah, it wasn't my best day, sharing that. I shouldn't have shared that. Because at the end of the day, that goes against my DNA."
The post and subsequent attention led to a meeting in Johnson's trailer, which he called a "meeting of clarity."
"He and I had a good chat in my trailer, and it was out of that chat that it really became just crystal clear that we are two separate ends of the spectrum," he explained. "And agreed to leave it there."
The Rock previously hit back at Diesel's "tough love" claims in July during an interview with the Hollywood Reporter, when he said his former co-star's words made him laugh "hard." He left little room for a return in the main franchise, which he has been abscent from since 2017, although he starred in 2019's Hobbs and Shaw.
"I think everyone had a laugh at that," Johnson commented. "And I'll leave it at that. And that I've wished them well. I wish them well on Fast 9. And I wish them the best of luck on Fast 10 and Fast 11 and the rest of the Fast & Furious movies they do that will be without me." 
Read Dwayne Johnson's complete cover story here.