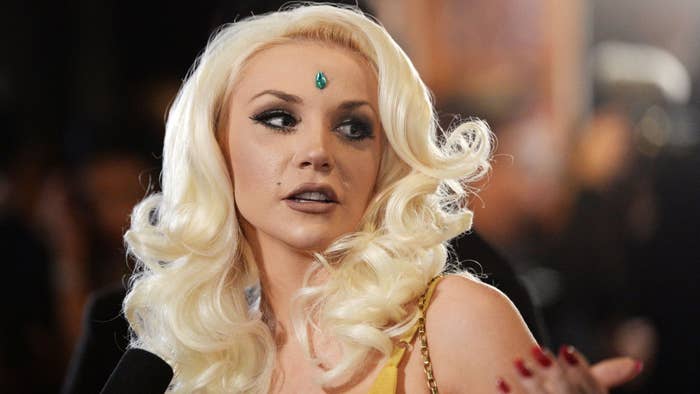 UPDATED 5/12, 3:28 p.m. ET: Chrissy Teigen has publicly apologized to model Courtney Stodden after telling them to kill themself a decade ago. 
"Not a lot of people are lucky enough to be held accountable for all their past bullshit in front of the entire world," Chrissy tweeted Wednesday. "I'm mortified and sad at who I used to be. I was an insecure, attention seeking troll. I am ashamed and completely embarrassed at my behavior but that is nothing compared to how I made Courtney feel. I have worked so hard to give you guys joy and be beloved and the feeling of letting you down is nearly unbearable, truly. These were not my only mistakes and surely won't be my last as hard as I try but god I will try!!"
Chrissy continued, sharing that she hasn't been able to connect with Courtney privately, but that she hopes they can "heal now knowing how deeply sorry I am."
"And I am so sorry I let you guys down," she finished her thread. "I will forever work on being better than I was 10 years ago, 1 year ago, 6 months ago."
See original story below.
Model Courtney Stodden is calling out Chrissy Teigen for allegedly telling them "to kill myself" over DMs when they were only 16.
Stodden was at the center of hurtful social media ridicule 10 years ago when they married 50-year-old actor Doug Hutchison as a teenager, a union their mother signed off on, which the model now calls a manipulative relationship in which they were groomed. And taking part in that negative attention was Teigen, whose previous tweets toward Stodden have made rounds online in the past.
In some tweets, shared by TMZ, Chrissy told the model to "go. to sleep. forever," and expressed her "hate" for Courtney. But, as Courtney now shared in a conversation with The Daily Beast, it went beyond just public comments, with Chrissy allegedly DMing the teenager hurtful things. Courtney also previously called out Chrissy when she left Twitter a couple months back for allegedly being a hypocrite.
"[Chrissy] wouldn't just publicly tweet about wanting me to take 'a dirt nap' but would privately DM me and tell me to kill myself," they shared. "Things like, 'I can't wait for you to die.'"
Also in the interview, the model discussed their previous relationship with ex-husband Hutchison, calling him a "master groomer."
"There were very difficult times where I thought I would never speak to my mom again—and Doug loved that," they shared. "He didn't want her to be in my life at all or give her any regard. He would even email my mom from different emails saying that I don't love her anymore. Just crazy, manipulative tactics he used to isolate me."