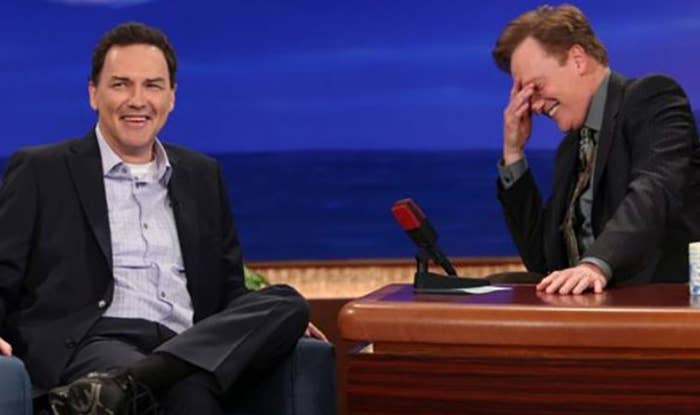 Since the news of his death broke earlier this week, Norm Macdonald fans and many of his famous friends have taken to social media to share their favorite clips of the comedian. Among them, his hilarious, and oftentimes intrusive, talk-show appearances. 
Honoring his late friend, late-night giant Conan O'Brien dedicated an hour-long episode of his Conan O'Brien Needs A Friend podcast to Norm, who died Tuesday after a private battle with cancer, bringing both Andy Richter and producer Frank Smiley along for the ride. As pointed out the Daily Beast, Conan revealed that despite Macdonald's status as a beloved guest, not everyone at NBC, Conan's former home, felt that way. 
Of course, Conan explained that Macdonald's reported refusal to stop joking about OJ Simpson on Saturday Night Live, despite Simpson's friendship with NBC exec Don Ohlmeyer, "cost him his job." But it also nearly left us without some of those Conan stints. 
"The word came down, 'You can't book Norm Macdonald anymore,'" O'Brien recalled. "And it came from the top, from Don Ohlmeyer."
Conan remembered feeling a sense of "loyalty" to the NBC boss who gave him his job, but overall, he wrote a letter in response saying, "I got this directive. You've hired me to do the best show I can and this is my best guest. So I need to do my job, which is the best show I can do."
Despite Ohlmeyer telling Conan something along the lines of "I expected better from you," Conan still invited Macdonald to Late Night four more times as a lead guest and another four on Conan's year-long The Tonight Show stint. Thank god.
Check out the episode of Conan O'Brien Needs A Friend below.