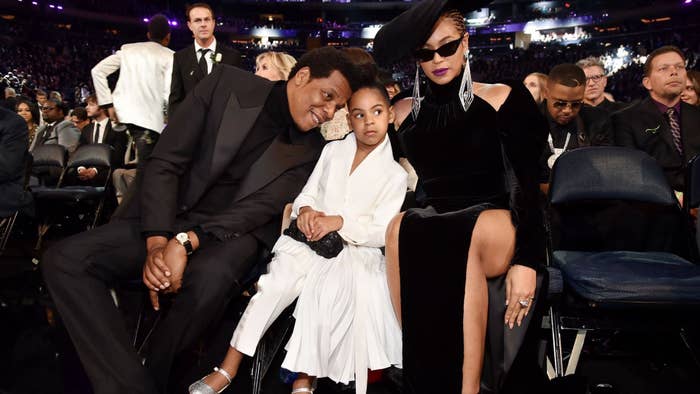 Blue Ivy is no stranger to award victories after snagging her first Grammy back in March, but now she's added another to her résumé. 
The 9-year-old daughter of Jay-Z and Beyoncé took home the Best Voiceover – Children's Audiobook award for her work on Matthew A. Cherry's Hair Love at the 2021 Voice Arts Awards on Saturday. She was among over 100 winners who were awarded during the night.
Tina Lawson, Blue's grandmother, shared the news on Instagram on Tuesday, saying how proud she was of Bey and Jay's oldest child. 
"Congrats my Blue You killed this," she wrote. "It's only the beginning! You are so talented! Grandma is beyond proud!!!"
In a statement shared by Lawson and Good Morning America around the book's release in early 2020, Cherry revealed the importance behind the story, which follows a father taking care of his young daughter's hair for the first time. 
"A couple years ago I was coming across a lot of viral videos about African American fathers that were doing their daughters hair," he said. "It really seemed like it was an anomaly, people were really sharing it because they weren't used to seeing it. I just wanted to normalize it and kind of shine a light cause often times Black men get a bad rap in not being involved in their kids' lives, and I really wanted to showcase a strong Black family unit and show that dads are present."
Earlier today, Tina announced her new Talks with Mama Tina Facebook Watch show, which will include a theme song straight from Bey and her three kids—Blue and 4-year-old twins Sir and Rumi. On Instagram, Lawson shouted out Bey and her "beautiful grand babies for making this special theme song for the show," which will kick off on Thursday.