In October of 2002, things were looking very good for Amanda Bynes. The then 16-year-old actress was coming off of her first starring role in a feature film, Big Fat Liar; her new WB show, What I Like About You, had just premiered; The Amanda Show, a showcase spin-off of All That, the show where she got her start, was Nickelodeon's most popular Saturday night show, even though it had been airing reruns for the last two years. As a child actress, Bynes had dominated her peer pre-teen girl demographic, and the star was setting her sights on a larger, more mature audience. The only direction to go was up, in her and her mentors' eyes. "Many a 'True Hollywood Story' has been told about show-business kids going bad," the New York Times wrote then, "but Ms. Bynes seems remarkably self-possessed and far more sedate than the highly caffeinated characters she plays on television." In the same article, Dan Schneider, who produced nearly everything Bynes had starred in up to that point, reinforced the Times' confident assertion: "I've seen kids in her position experiment with drugs and be too promiscuous, but Amanda has avoided all that. My wife, who knows her, says she's almost like Marcia Brady in that she's so clean-cut and wholesome."
For the following decade, those statements read like an appropriate assessment. Now they're the most foreboding and ominous sentences ever written about Amanda Bynes.
From 2012 to 2015, Bynes' public status was a compressed roller coaster, valleys in which Bynes would run into serious legal trouble or tweet a rant about Hitler and subsequent peaks in which reports would claim she was "recovering" and "doing better again." And though attention on Bynes was perhaps at an all-time high during that period, the chaotic coverage of her personal life, via Twitter, photos, and articles, overshadowed what we were really witnessing: the flame-out of a promising actress. 
Ten years ago this month, She's the Man debuted in theaters. The movie, a modern riff on Shakespeare's Twelfth Night, had Bynes basically playing two characters—Viola and her twin brother Sebastian, whom she was impersonating to stay on a soccer team and get closer to a character played by an unknown actor named Channing Tatum—allowing her versatility and talent for physical comedy to shine. It's a corny movie, but Bynes was always able to sell corniness, whether it was on All That or The Amanda Show. She's the Man performed admirably at the box office for a movie aimed at teens, but more importantly, Bynes further proved that her skill was high enough, and her charisma magnetic enough, to carry a movie. Her stock only went up after She's the Man, and a year later she appeared in what would end up being her biggest hit, Hairspray.  
Though Nikki Blonsky was the undisputed star of Hairspray—she was nominated for a Golden Globe for her performance—Bynes made an impression in the movie's uptight best friend role. "Bynes has been quietly displaying a serious comic gift for some time now," the LA Times' Carina Chocano wrote in her review, noting how Bynes turned Penny Pingleton, a potential blank slate for Hairspray's main protagonist to play off of, into a character with depth and vitality. 
But even though Bynes was finding a career in film, she was quickly and clearly being typecast. All of her roles, from All That to Hairspray, had the same vibe: bubbly tween girls, quirky, cute, and funny in a clumsy, farcical way. This was a character Bynes could fall into easily, but it wasn't the only kind of role she wanted to play. The 2002 Times profile painted her in its headline as "A Proud Product Of the Nick Pipeline," but Bynes didn't want to be tied to the Nickelodeon name and image forever. The fact that she was being pigeonholed was only made worse by the existence of another actress her age who had come up under similar innocent circumstances, but who had been allowed to graduate and mature: Lindsay Lohan.
"I'd love to do something
that would shock
people, something that's against type."
—Amanda Bynes, 2008
"Everybody had [Amanda] as a goody-goody. She couldn't break out of that genre," an unnamed executive told The Hollywood Reporter in 2012. "Her frustration was, 'I could have played this role; I could have played that role. I'm not getting the Lindsay Lohan roles.'"
Lohan, like Bynes, was an iconic child actress, thanks to 1998's The Parent Trap, and she cemented her place as a tween star with movies like Freaky Friday and Confessions of a Teenage Drama Queen. But following her starring role in Mean Girls in 2004, Lohan began to find darker, more sexualized roles—roles that mirrored her real-life persona as a troubled bad girl, which developed in 2007 when she racked up two DUI charges and three trips to rehab. 
"I'd love to do something that would shock people, something that's against type," Bynes told Cosmopolitan in 2008. "I feel like people don't know yet what I can really do." It's a declaration that seemingly fell on deaf ears. Following the Cosmo interview, Bynes starred in a Lifetime movie, played a Midwestern girl in a show called Canned that never went to series, and most memorably, played the chaste slut-shamer Marianne in 2010's Easy A. She was pining for more adult roles, and all she got was characters who were gravely afraid of adulthood. And the one mature role she did manage to book, fell apart.
Bynes was set to have a cameo in the Farrelly Brothers gross-out comedy, Hall Pass, as Owen Wilson's character's babysitter, a sexy coed who, of course, comes along and tempts Wilson to step out of his marriage. Immediately it seemed like the perfect solution to Bynes' forced arrested development: the role would capitalize on the actress' talent for big, physical comedy in a setting definitely not safe for Nickelodeon. But on the Hall Pass set, Bynes began exhibiting erratic behavior—the behavior she's more known for today.
A source told the Daily Beast that she was acting paranoid and fearful. Another source told The Hollywood Reporter that she showed up to shoot utterly unprepared. Both the Farrelly Brothers and Wilson reportedly made an effort to get usable footage out of Bynes, but the situation never improved. Bynes ended up leaving the movie—both camps claimed her departure was due to a "scheduling conflict," which feels like a euphemism, all things considered—and was replaced by Alexandra Daddario. Since then, Daddario has had roles in HBO's True Detective, San Andreas, and the upcoming Baywatch remake. Bynes hasn't had a single one.
Bynes instead began filling her resume with deeply concerning public outbursts. It started in 2012 with traffic violations of varying severity. In March, she was pulled over in Los Angeles for driving while talking on her cell phone; she drove off before the policeman was able to give her a ticket. A month later, she clipped a BMW while driving at 3 a.m. After refusing to take a breathalyzer test, she was charged with a DUI. In total, Bynes racked up seven accidents in 2012. But somehow more glaring and concerning than her vehicular exploits—a DUI is seen more as a rite of passage for a child star than a harbinger of a breakdown—was the very public personality she presented on social media.
Bynes' turn towards manic, consistent oversharing on Twitter began back in 2010, with highlights including tweets about her affinity for assessing Hitler Germany or criticizing "ugly people." And it only got worse. There was still some humor to be found when Amanda Bynes tweeted, "I want @drake to murder my vagina" in March 2013, but no one was laughing when she tweeted at Rihanna, two months later, "Chris Brown beat you because you're not pretty enough."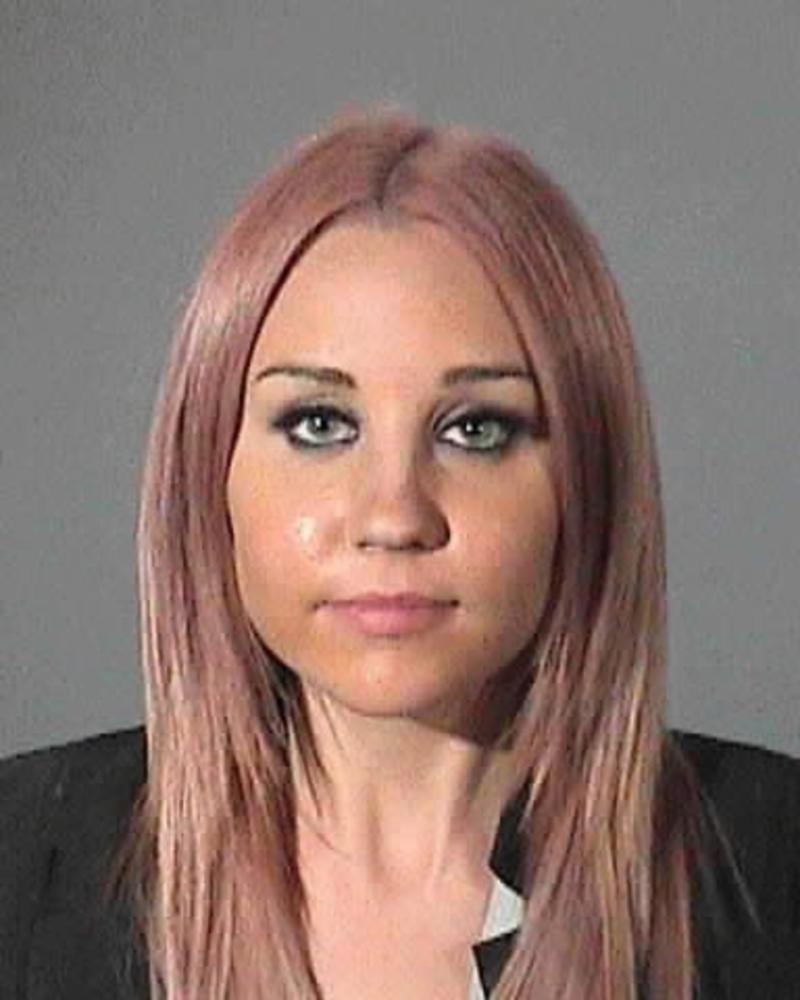 Something was clearly wrong with Bynes, an observation TV anchors made with a grin on their faces.
The media, and our society in general, often takes a grim interest in the real-life struggles of celebrities—when Britney Spears shaved her head, when Amy Winehouse looked listless and sick on stage, when Zac Efron got beat up on Skid Row. The coverage on Bynes wasn't especially extreme, but it was so immediate. In the Twitter age, her breakdown was the first that occurred almost entirely in the public eye, with updates coming on a minute-to-minute basis. In 2007, when Lindsay Lohan was arrested for DUI, the news took days to reverberate—seven years later, news on Bynes took only seconds to devour. There were more impulse reactions, less perspective, and in the race to provide content on Trending Topics, levity was the default. Bynes was mocked and frequently called "crazy," as if the word didn't have any serious implications. The actress' struggles, in no part helped by the fact that she wasn't working, were a tiny snowball at the top of a mountain, and with every snicker and decision to funnel uncomfortable concern into a funny list about her "craziest tweets," it grew bigger and raced down the slope at an unstoppable velocity.
The behavior Bynes exhibited on Twitter continued to manifest itself in real life as well. She locked herself in a New York City cupcake store bathroom; she was arrested for reportedly throwing a bong out of an apartment window; she was placed on involuntary psychiatric hold and put into the conservatorship of her parents after starting a fire—and possibly dousing her dog in gasoline—in a stranger's driveway in Thousand Oaks, Calif. 
Following the end of the conservatorship—and a six-month stint in rehab—was perhaps Bynes' darkest moment yet, on Twitter and elsewhere. "My dad was verbally and physically abuse [sic] to me as a child," she tweeted. "He called me ugly as a child and then asked me if I wanted to have sex with him and I did not know how to respond and I said no and then I was forced to live with my dad which was a total nightmare. My dad fondled himself in front of me so many times that I started recording him on my phone in hopes of catching him saying or doing something inappropriate around me so I could get him arrested and put in jail for the rest of his perverted life. My mom knows that my father's literally and physically incestual towards his own daughter and the fact that she never called the police on him embarrasses me to no end. So, today I am meeting with a lawyer to get a restraining order against my dad."
"I am heartbroken today for my husband of 47 years," Bynes' mother responded in a statement. "Rick has never abused Amanda or our other children physically or sexually. These accusations are absolutely horrible and could not be further from the truth! These allegations stem from Amanda's mental state at the moment." A day later, Bynes recanted her accusations in a way that made the controversy that much more concerning: "My dad never did any of those things The microchip in my brain made me say those things but he's the one that ordered them to microchip me."
A month later, Bynes admitted on Twitter to being diagnosed bipolar and manic depressive. From there she began tweeting more sporadically—selfies and an announcement that she planned to attend the Fashion Institute of Design & Merchandising in Los Angeles—and by March of 2015, she wasn't tweeting at all.
In Amanda Bynes' first appearance on All That in 1996, it took one sketch for her talent and magnetism to become apparent. She was a new addition to the cast, which had already flourished on Nickelodeon for two seasons, and in the Season 3-opening skit, the veteran actors wondered aloud if she would be "too sweet" for the show. The ten-year-old actress—surrounded by people years older and feet taller than her—proceeded to invert that preconceived notion, inflicting bodily harm on All That's stage manager, Kevin, with a smile that was more devious than saccharine. She had innate range, an unteachable feel for what the audience wanted, and an ability to draw attention to herself. From that moment on, All That was her show, and Nickelodeon was her network.
It feels better to remember Bynes in this light, and block out the years that followed. It's nicer and warmer. That way we don't have to acknowledge how a young girl was turned into a brand extension so strong that she couldn't find her way out of it, aside from destroying it and herself in the process; how we all stood on the sidelines while a person broke down in public, insistent that no matter what, we were innocent bystanders to a tragedy that had nothing to do with us; how we chew up and spit out young stars like this all the time. Amanda Bynes isn't the first child star to implode, and she won't be the last.
You can still follow Amanda Bynes on Twitter. She's reportedly currently enrolled at FIDM, "doing great," according to her attorney Tamar Arminak. It says she's only tweeted 45 times from her account. The messages to Drake, the hateful statements towards Rihanna, the accusations against her father—they've all been deleted, erased from our collective digital memory. What remains is the picture of a person who's excited about school, who likes to draw, and whose eyes seem calm and hopeful, if a little tired. She's a person who is looking forward, trying to be happy. She's a person we hardly know.