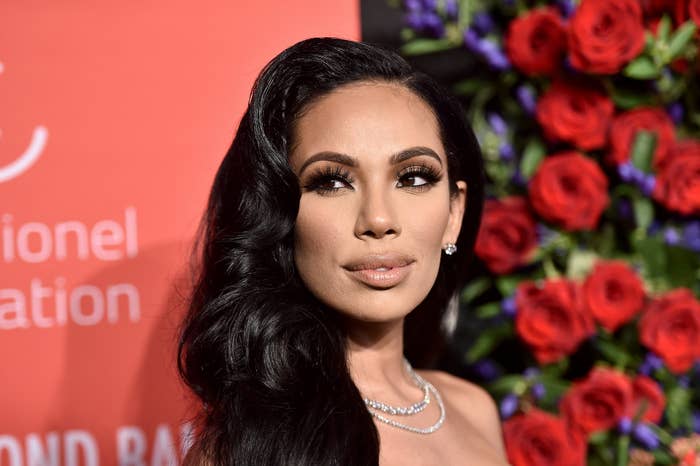 UPDATED Sept. 12, 5:12 p.m. ET: Erica Mena has issued an apology for her "monkey" comment on her Instagram Stories.
I deeply regret my insensitive comment and want to humbly apologize to anybody I hurt or offended by my thoughtlessness. My choice of words was wrong, and I take full responsibility for what I said. I am committed to listening to the voices of those affected and will work toward making amends. As a woman of color and the mother of two black children, I want to make it clear that my use of that word was not in any way racially driven. That said, I do understand the gravity of what I said and want to use my platform to promote inclusivity and equality.

Sincerely,

Erica Mena
TMZ also reported in their comments section that fans asked "Did she apologize to you for bringing up your child?" in regards to Spice. Mena replied, "She will never have the guts unfortunately."
See original story below.
Erica Mena will not be returning to Love & Hip Hop: Atlanta next season after making a racist comment in a recent episode.
On Tuesday night's episode of the series (Aug. 29), a confrontation between Mena, 35, and fellow cast member and Jamaican dance hall singer Spice, 41, quickly went south. As the two seemingly tried to resolve their differences over lunch, Spice mentioned that Mena's oldest son doesn't like her. Mena flipped a table onto Spice and made derogatory comments including, "You should have died, bitch," referring to a near-fatal sepsis infection Spice suffered last year.
Mena, who is of Dominican and Puerto Rican heritage, then called Spice a "monkey" among other insults. Spice, who was held back by the show's on-site security, also vented that Mena's ex-husband Safaree, who had allegedly cheated on her, was her "karma."
Despite the episode airing recently, the altercation may have taken place earlier this year. The show issued an official statement on their social media accounts in the aftermath of Mena's racist comments.
"The Love & Hip Hop franchse has never shied away from hard conversations in our community. Working hand-in-hand with our partners, viewers will see the impact of Erica Mena's remarks play out in the final three episodes of the season," the show said in a statement. "Effective immediately, she will not appear in the next season of Love & Hip Hop: Atlanta."
Mena had been appearing in the New York and Atlanta editions of Love & Hip Hop since 2011. She has not issued any statements on the matter by publishing time. Mena, along with fellow castmate Bambi Richardson and several others, were arrested last week (Aug. 26) over an alleged bar fight in the Buckhead district of Atlanta, according to WSBTV.
In an exclusive interview with Forbes published on Wednesday (Aug. 30), Spice shared that she's doing well and is on a journey towards personal growth. "Because someone's opinion of me does not value who I am and not because someone thinks something of me, that doesn't mean that's who I am," she said.
Spice continued, "I've always reminded my melanated women how beautiful they are, to love themselves [for] who they are [so] someone can't come and say a few words, and that's going to get me into a mood, like, no. That doesn't define me. I know who I am."