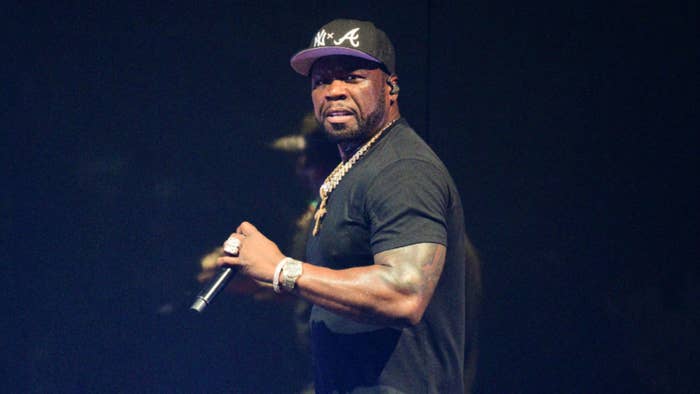 It seems like 50 Cent didn't know his own strength on the set of The Expendables 4.
Stunt coordinator Alan Ng talked to Paramount's PopCulture.com blog about working on set with the stars of the action flick—also billed as Expend4bles, among the likes of Sylvester Stallone, Jason Statham, Dolph Lundgren, and Randy Couture. Megan Fox and Fifty are new additions to the franchise but were also "relatively new" to shooting action scenes.
Despite their limited experience in the genre, Ng said the actors found it easy to work with each other. "[Fox] has a very good foundation with her dance background and she picks up choreography very fast when rehearsing or when we made any changes on set," he said. "50 Cent is very powerful and strong so that made it very easy to work with him," Ng added.
He continued, "We played to the fact that Megan has a strong dance background. Megan's style is very agile, flexible, and fast. Whereas 50 Cent is very powerful and strong, so he like a tank. He was actually so strong that in one of the scenes, he was supposed to barge into a stunt performer and his strength resulted in the guy going flying and dislocated his finger. The guy and his finger are okay now of course."
Once he caught wind of the story, 50 shared a Complex screenshot on Instagram and wrote, "I was 237 lbs in EXPENDABLES 4 I'm back down to 208. I still got a little POWER check out the movie."
Despite the SAG-AFTRA strikes rules against promoting struck work, Fifty took to Instagram to share the stunt coordinator's praise with the caption, "👀y'all gotta check EXPENDABLES 4 out."
Last month, the rapper shared he wasn't happy with the film's promo poster. "WTF did we run out of money," he wrote on his Instagram at the time. "Why my head look like it ain't connected to my body. I bet they are gonna make @officialslystallone look great."