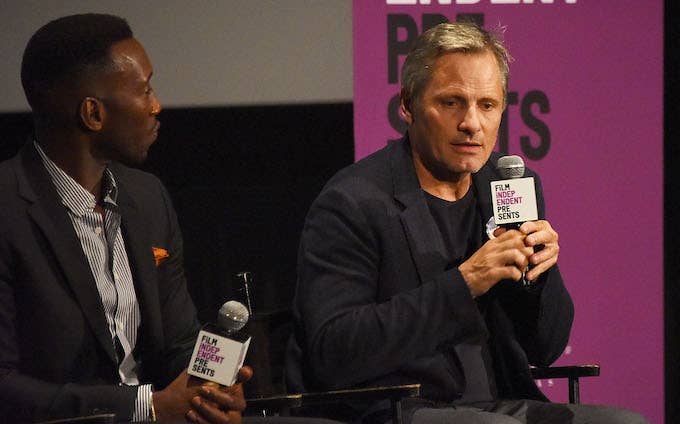 UPDATED 9:23 p.m. ET: Varietyreports that Mahershala Ali has responded to Viggo Mortensen's use of the N-word. "However well-intended or intellectual the conversation may have been, it wasn't appropriate for Viggo to say the n-word," Ali said. "He has made it clear to me that he's aware of this, and apologized profusely immediately following the Q&A with Elvis Mitchell. Knowing his intention was to express that removing the n-word from your vocabulary doesn't necessarily disqualify a person as a racist or participating in actions or thoughts that are bigoted, I can accept and embrace his apology."
See original story below.
Hey Aragorn, wyd?
Lord of the Rings actor Viggo Mortensen apologized for his use of the N-word during a panel promoting his new movie Green Book. The panel followed a screening of the film, which ironically tells a tale of interracial friendship. He used the slur sitting next his co-star Mahershala Ali.
"In making the point that many people casually used the 'N' word at the time in which the movie's story takes place, in 1962, I used the full word," Mortensen wrote in a statement to The Hollywood Reporter. "Although my intention was to speak strongly against racism, I have no right to even imagine the hurt that is caused by hearing that word in any context, especially from a white man. I do not use the word in private or in public. I am very sorry that I did use the full word last night, and will not utter it again."
Mortensen blurted out the slur during a discussion about "racial progress" in America. "For instance, no one says n— anymore," he said. Things got awkward after that.
Film Independent member Dick Schulz, who attended the screening, says one woman shouted "don't say that," while everyone else in the room got visibly tense. "He went, 'I'm gonna go off on a tangent here, but it's important, and I don't like saying the word, but, for instance, people don't say' — and then he said the N-word in its entirety — 'anymore,' and you could just feel the room immediately tense up. And the craziest thing was they had just talked about body language, so I felt like everyone was really attuned to body language, and everyone's body language on the panel immediately tensed up," Schulz told THR.
"One of the reasons I accepted the challenge of working on Peter Farrelly's movie Green Book was to expose ignorance and prejudice in the hope that our movie's story might help in some way to change people's views and feelings regarding racial issues," Mortensen also wrote in his apology. "It is a beautiful, profound movie story that I am very proud to be a part of."
Director Peter Farrelly and Ali haven't made any comments about Mortensen's mistake. You don't need us to tell you why non-black people shouldn't use the n-word, so don't.