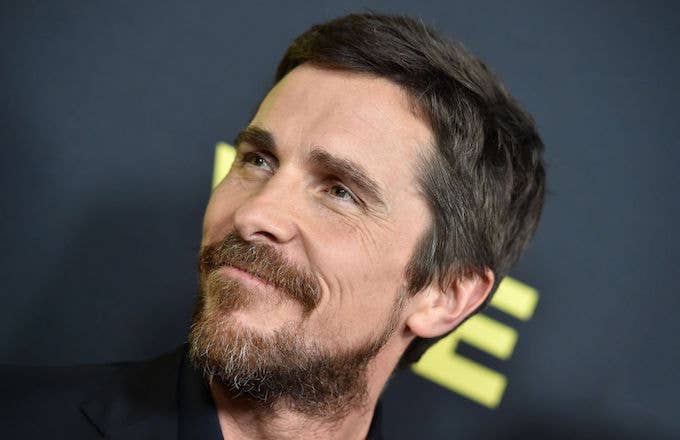 While on the red carpet for his latest political drama Vice, Christian Bale opened up about a different political drama—meeting Donald Trump.
Bale revealed to Variety that he met No. 45 while filming The Dark Knight Rises back in 2011. "I met him, one time," he said. "We were filming on Batman in Trump Tower and he said, 'Come on up to the office.'"
Maybe because Bale looked too much the part, suited up like Bruce Wayne, or maybe the Donald is physically unable to discern fiction from reality, but either way, the actor says Trump treated him like the wealthy character during their meeting.
"I think he thought I was Bruce Wayne," Bale joked, "because I was dressed as Bruce Wayne. So he talked to me like I was Bruce Wayne and I just went along with it, really. It was quite entertaining. I had no idea at the time that he would think about running for president."
Well Bale, join the club.
In Vice, Bale takes on the role of former vice president Dick Cheney during his reign under George W. Bush. He put on an impressive amount of weight to make himself look like the VP, which you can see for yourself in the movie's official trailer. He's known for losing and gaining dramatic amounts of weight for roles (he lost 63 pounds in 2004 for The Machinist). This time he gained over 40 pounds with the help of a nutritionist and a lot of pie. 
"This is the first time I actually did go to a nutritionist cause I'm starting to feel my mortality," he told Variety. "I did decide, 'You know what, I might die, so maybe I should go to see someone who actually knows what they're talking about instead of just winging it,' which is what I've always done." 
Bale is joined by Amy Adams, Steve Carell, Alison Pill, Sam Rockwell, and Tyler Perry.
Vice hits theaters on Dec. 25.