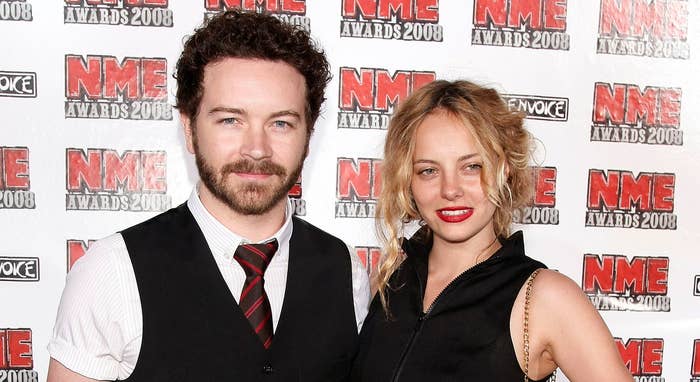 UPDATED 09/20 1:30 p.m. ET: Bijou Phillips has requested spousal support in her divorce from Danny Masterson following his 30 years to life in prison sentence on rape charges.
As reported by People, the actress has requested to "terminate the court's ability to grant support" to her husband, with whom she shares her nine-year-old daughter. She is seeking full legal and physical custody of their child but with Masterson given visitation rights. Documents indicate they don't have a prenup. She is also requesting the former That '70s Show actor pay for her attorney's fees in the divorce.
TMZ reports that she was recently seen still wearing her wedding band despite filing for divorce from Masterson on Monday, Sept. 18. The day after filing for divorce, she was spotted leaving a Sotheby's real estate office in Los Olivos, California with her ring still on.
See original story below.
Bijou Phillips, 43, has filed for divorce after her husband Danny Masterson was sentenced to 30 years to life in prison on rape charges, TMZ reports.
According to the publication, the actress and model cited "irreconcilable differences" and is asking for spousal support. She also requested that her attorney fees be paid and that her legal name be switched to Bijou Phillips. The couple has one child together.
"Ms. Phillips has decided to file for divorce from her husband during this unfortunate time. Her priority remains with her daughter," Phillips' attorney Peter A. Lauzon said. "This period has been unimaginably hard on the marriage and the family. Mr. Masterson was always present for Ms. Phillips during her most difficult times of her life. Ms. Phillips acknowledges that Mr. Masterson is a wonderful father to their daughter."
Phillips, who was at Masterson's sentencing hearing, called Masterson "an extraordinary husband" in a letter she wrote to the judge presiding over the actor's rape trial.
"We need him more than you can imagine," the letter read. "I know he has been convicted of serious crimes. But the man I married has only been an extraordinary husband to me and a devoted father to our daughter."
Masterson's That '70s Show co-stars Ashton Kutcher and Mila Kunis also wrote letters on the disgraced actor's behalf and were quickly met with backlash for attempting to defend him.
"While I'm aware that the judgment has been cast as guilty on two counts of rape by force and the victims have a great desire for justice, I hope that my testament to [Masterson's] character is taken into consideration in sentencing," Kutcher's letter read.
Kutcher and Kunis, who married in 2015, later apologized in a video posted to social media. The fallout led to Kutcher stepping down as chairman of an anti-child sex trafficking organization that the actor founded with his now ex-wife Demi Moore.
Phillips filed for divorce on Monday in Santa Barbara Superior Court, per NBC News.
"We want to express our gratitude to the three women who came forward and bravely shared their experiences," Los Angeles County District Attorney George Gascón previously said of the three women who came forward to accuse the That '70s Show actor of sexual assault. "Their courage and strength have been an inspiration to us all. While we are disappointed that the jury did not convict on all counts, we respect their decision. The verdicts handed down by the jury in this case were undoubtedly a difficult one to reach and we thank the jurors for their service."
Masterson was found guilty of two counts of rape by force or fear.