UPDATED 7:58 p.m. ET: Walmart has shared a statement apologizing for the tweet.
"We apologize to Paul Walker's family, friends and fans. The tweet was posted in poor judgment and has been removed."
See original story below.
Walmart is catching heat over a Paul Walker joke that many perceived as insensitive.
The controversy stemmed from a Jan. 14 tweet in which a customer expressed excitement over Pillsbury Cinnamon Rolls that came with strawberry and cream-flavored icing. The user stated that the product was sold at Walmart, and followed-up the initial tweet with a gif of a speeding car: "*me racin to the nearest Wally World*," they captioned the post.
The person who runs Walmart's official Twitter account caught wind of the tweet Thursday afternoon and decided to respond to the gif with a joke. But, very few people thought it was funny.
"Hey, Paul Walker. Click it, or ticket," the Walmart account tweeted. 
Walker died Nov. 30, 2013, in car crash in southern California. Investigators determined the vehicle was traveling 80 mph when it crashed into a lamp post and burst into flames. Walker, who was only 40, died in the crash alongside Roger Rodas.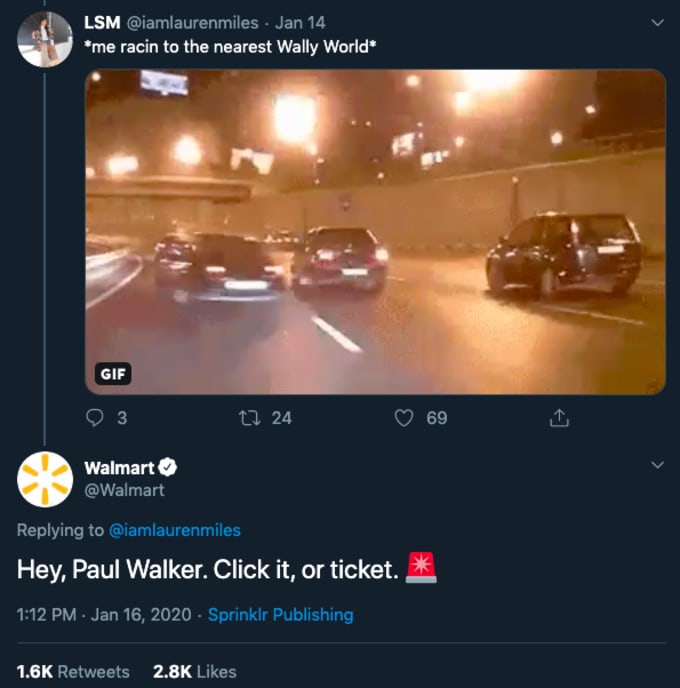 Many noted that Walmart was quoting a line from Workaholics episode that aired two years before Walker's death. The series was making a clear reference to The Fast and the Furious franchise, in which Walker starred.
Walmart has since deleted the tweet, but the criticism continued into Thursday evening. You can read some of the reactions below.