Following this week's successful Community Week launch with Hav A Sole in Long Beach, the Community Week team took it to Culver City for a writing seminar with Def Jam's DaniLeigh ahead of ComplexCon Long Beach 2019, happening on November 2-3, 2019.
As an organization, New Earth's focus involves getting youth ranging from 13-25 out of the system and helping put them on the right path in life via a number of mentor-based programs in the arts, education, as well as vocational field. It's all about giving the youth education on opportunities outside of where their paths may be leading. It's a similar aim to the Precious Dreams Foundation, which was started in 2012 with the aim of supporting children in foster system and homeless youth through positive reinforcement, while assisting them in reaching future goals. It was a perfect marriage for this special Community Week event.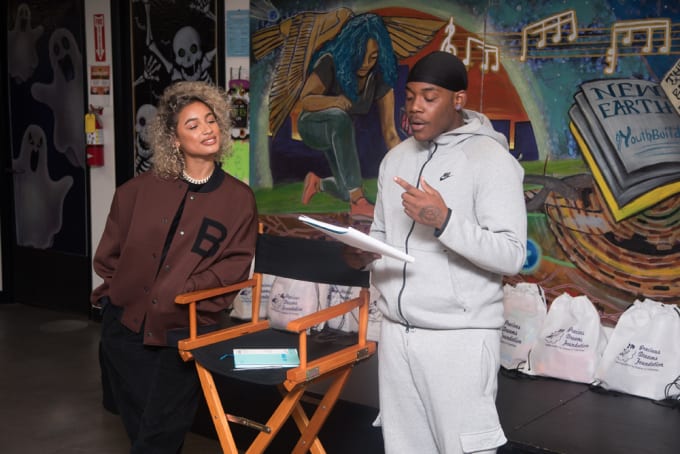 To a room of kids in the program at New Earth, DaniLeigh paid a visit on Tuesday. Dani sharing her story about her aspirations on becoming a recording artist, and a taste of the hectic life of a working artist was met with questions from some of the more music-minded kids in the room. As the writing workshop (where participants wrote about where they see themselves in the near future) got underway, the facility's music studio was opened up, with Dani listening in on some of the tracks being created right there in the building. Precious Dreams ended the day by giving the participants on hand comfort bags featuring everything from stress balls to journals; Complex also gave everyone in attendance passes to ComplexCon Long Beach 2019. Later in the day, Precious Dreams also organized a comfort bag packing session at Complex's office in California, where employees stuffed 160 bags for migrant youth that were recently held in detention centers and are currently living in homeless shelters with their families. 
Our recap of Day 2 of #ComplexCommunityWeek with @DaniLeigh, @NewEarthLife and @PreciousDreams_. pic.twitter.com/kg2GgXDL4q

— Complex (@Complex) October 30, 2019
For more of a look from these events, check out the photos below, and be sure to keep it locked to ComplexCon's Community Week page for a full calendar of this week's activities.