ComplexCon returns to Long Beach Nov. 6 - 7 with hosts J. Balvin and Kristen Noel Crawley, performances by A$AP Rocky and Turnstile, and more shopping and drops.
Secure your spot while tickets last!
Cipha Sounds is determined to make you laugh, whether he's hosting at the Comedy Cellar, the famed NYC comedy club that frequently features impromptu performances from the likes of Chris Rock and Amy Schumer; DJing for his friend Dave Chappelle; running his hip-hop-meets-improv weekly live show Take It Personal at the UCB Theatre; or appearing on your TV screen as the host of Laff Mobb's Laff Tracks (Wednesdays at 11 p.m. on truTV). But the good times don't end there. Cipha's gearing up for even more laughs with his upcoming new show, Rappers in Rides Running Errands, which is exactly what it sounds like as the multi-talented former Hot 97 DJ will take your favorite rappers on a ride to run errands. We sat down with Cipha to discuss music, comedy, and how he moves from one to the other.
This interview has been edited and condensed for clarity.
You did radio for so long, where it's happening live and you can't both be on the show and listen to it. TV is different: you tape it and then they broadcast it later. How is it to actually watch your own show?
It's very weird because the only time you would really have to listen back [on the radio] is when either you said something wrong and you're getting in trouble for it or, if you were in an aircheck with your boss—which is grueling. Them just breaking apart everything you say, because it's that time of the month where they do a review about your on-air performance. They have to like, "Oh, this was too long," "This was too short." There's never anything good, because he'll say, "You're supposed to be good."
TV, I shot that show [Laff Tracks] so long ago, over the summer. It was supposed to come out in September, then they moved it to January 2018. So, I forgot all the stuff I did. Once you shoot it, it's in the can and you just go away from it. Then they edit and work on it and then it comes out. I'm watching it now, which is super weird seeing it all put together. I watch it with my family, so I cringe a little at certain things, or I get upset. I'm like, "Hold on, I was there for this many hours, and that's all you use? That little part?" It's weird but it's fun. 
A couple years ago there started being this trend where famous people would tell anecdotes and the result would be animated. Laff Tracks kind of reminds me of that. Did the idea for it grow out of that or something else? 
As we evolve in entertainment, with there being so much more ways to get content, people are being more personal. There's an interview you would give on Jimmy Fallon or Stephen Colbert, but then also there's these smaller things where people get real personal. There's podcasts nowadays and there's internet radio shows where you have more time and you can get more in depth. So, with that theory, there's a lot more content being made into other things like animation—what we call on our show "recreations"—but nobody was doing it for jokes. They're doing it for personal stories of artists or celebrities….
Like the time I met Kanye and this wacky thing happened, or whatever.
Right, and that story could be two hours long. The night you're with Kanye and you bump into Shaq. But no one was doing that for jokes.
There's a guy named Carlos [Koustas] that worked for Bob Sumner who owns Laff Mobb, and they came up with a way to do it for jokes. Carlos is from the Bay Area. He used to direct a lot of music videos. So he's like, "What if we made a music video for a joke?" That's where it came from.
When you do a music video, you lip sync the song. He's like, "What if someone lip syncs the joke?" Then they were fooling around on the internet, trying to make some. Some of them came out really good and—this was before I was involved—got on WorldStar and blew up. They got it to truTV and truTV played it on this variety show called Late Night Snacks. But it was just the standalone joke. So they wanted to create a show out of it and they were trying to figure out, "How do we make a show out of these clips?" That's where the glue comes in, which is Cipha Sounds. We came up with the whole concept, how to make it a show. But really, it's just a music video for a joke.
And great things have started as smaller parts of other shows. The Simpsons comes to mind, for example.
We're going to be as big as the Simpsons. Forty Emmys.
[Laughs] You'll be doing the show until you're 103.
Yeah. The Simpsons is a fucking great example of what's happening nowadays, and that was more than 20 years ago, right? [Note: The Simpsons started in 1987 as animated shorts during The Tracey Ullman Show]. It's low stakes, no pressure, short content, and it could blow up into something, and here we are now.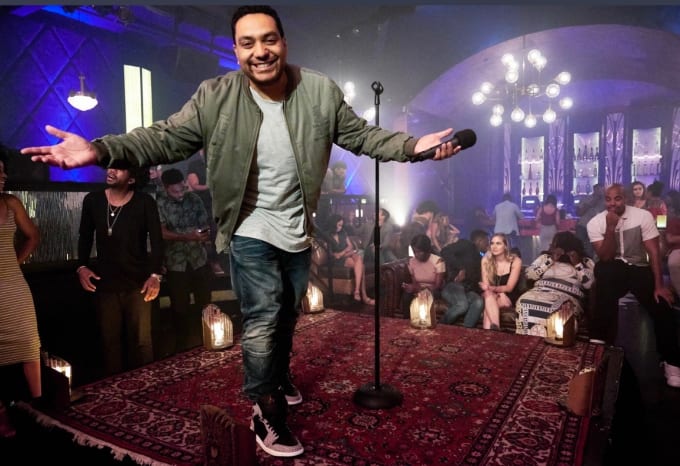 You also have another show coming out called Rappers in Rides Running Errands. What's the format for that one?
It's very funny. That's also a Late Night Snack show. It's going to be anywhere from two-and-a-half to four minutes, five minutes maybe. It's a play on all these car shows lately. The guy who did it, he's an incredible writer, and he used to work with me at MTV back in the day. He brought it to tru. They loved it, and they were like, "But who would host something like that?" Then they were like, "Oh, wait! We have the guy already in the building."
We wanna see rappers who talk about the biggest shit and boast about jewelry and cars and women, doing the most mundane shit. I took Too Short to the dry cleaner. I took Daz from the Dogg Pound to buy gardening supplies because he grows weed now. I took Yung Joc—he was super-funny—we got chicken and waffles.
It's really a quick interview show in the car. But since there's Jerry Seinfeld's car show, and Carpool Karaoke, we just did it like, what would a rapper version be? I was like, "What if we just do real people stuff and see the real person?" And it definitely was doing real shit. Too Short, we weren't even joking. We brought his real dry cleaning and brought it to the dry cleaners. I was like, "Bro, this is a TV show. We can fake it." He was like, "No, I gotta get this dry cleaned."
You've been trying to bring music and improv comedy together for a while. What have been some of the high points of that, and some of the low points?
The low point is, straight up, no one's ever really done it by themselves. Dave Chappelle always had musical guests on his comedy show. There's always musical guests on Saturday Night Live. That part has been done. But who can actually DJ and do stand-up, or do improv? The only people close to me are Nick Cannon—he has Wild 'N Out and he also DJs, I've never seen him do both at once. And Drake is very funny when he does SNL. To be someone who could be the musical guest and the host of SNL, that's my dream.
As someone who came to comedy comparatively late, how tough was it for you to learn the structure of a joke and the other inside-baseball stuff that comics talk about?
It was very hard, but my advantage is, I was already somewhat famous. All the comedians already liked me on the radio, so they gave me a lot of pointers. I get to talk to the greats, so I think that moves me along a little faster.
I open up for Michael Che all the time. Sitting on a plane next to Michael Che is the best comedy school you could ever go to. I just pick his brain about writing for SNL. Also, I was older so you already know who you are a little more, where young comedians are trying to figure out a joke and figure out who they are. So there's a lot of blockage there. I already knew who I was and was able to talk about it more quickly. Also, being on the radio, I talk about myself a lot, so it's easy to be self-deprecating.
But to this day, I'm still a student. I have no ego either. I don't care if I'm more well-known than someone. If they're funnier and they're headlining, I'll open up. I don't care because I'm not trying to be somebody, I'm trying to learn how to be funny and tell jokes.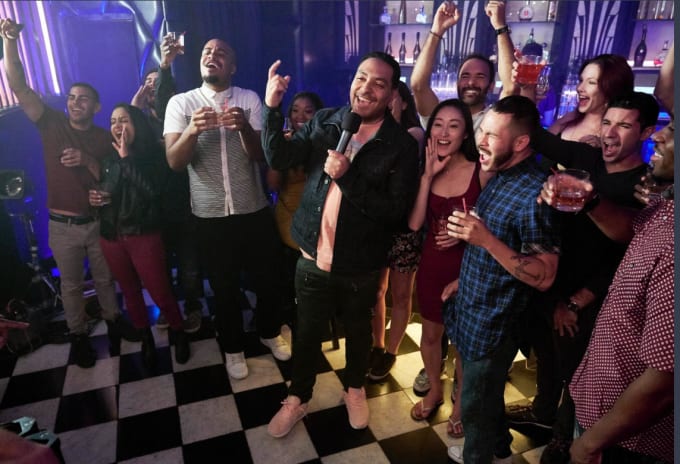 You've been serving as host at the Comedy Cellar, where high profile guests just pop up to do surprise sets. Do you ever tell Chris Rock, "You only have 10 minutes?" Or do they go as long as they want?
We would like it if they told us they were coming. Sometimes they do. But no, if you're at a certain stature and you show up, you could pretty much do whatever, because that adds to the allure of the Comedy Cellar. You're at this crazy underground basement, next door to Cafe Wha where anybody from Bob Dylan to Richard Pryor started. That block is famous for the start of so many careers. So it already has this essence to it, this vibe. Anyone shows up, and they can go as long as they want.
Norm Macdonald came once, and he was getting ready for the last episode of Letterman. So he knew exactly how long he wanted to do, because he was practicing that set. He's like, "Light me at four minutes." Now I'm part of the show—when they tell you to light them at a certain time.
Louis C.K., when he used to come by a lot, he did chunks of 20 [minutes]. Chris Rock is random. When he was first starting to work on what he's doing now on tour, I saw it all from the beginning. He's like, "I don't know. I'ma do 10," and he'd end up doing 40, or vice versa. It throws off the rest of the night. But it's not just about selling drinks. It's about creating this club where anything could happen. 
Do you think you might at any point leave hosting behind and just do stand-up?
I like hosting. It's not holding me back from being a headliner. I like doing both. Even now, if I got so popular from Laff Tracks, some shows I would headline and some shows I would host. What I'm doing now, is I'm starting to do what I did with Chappelle, where I would DJ and crack jokes. I'm trying to turn that into a headlining act. 
You were a co-host of the first hip-hop podcast, Juan Epstein, with Peter Rosenberg. You guys do that, and then towards the end of your run, is when the space completely blows up. What was that like?
I know. It hurt. [Laughs] What I do like is that every other hip-hop podcast right now gives us our credit. But they do not write any checks for us. [Laughs].
The reason we started it was to learn how we sounded with each other because we were about to do a radio show together, and then it turned into its own thing. We tried to talk to a couple of podcast networks when they were first starting and we didn't like the deals. The deals were kind of crap back then, so we didn't take any. Then we started seeing people make money, like Marc Maron or Adam Carolla. And then Combat Jack came in the game, and a lot of comedians blew up from podcasts.
Once we didn't do a couple deals, then we made it our goal to keep it as pure as possible. Because the thing is, me and Peter Rosenberg were co-hosts on the radio, and he was doing two other things after that. I was either A&R'ing at record labels or trying to do comedy. So our podcast was our third or fourth tier priority. So we're like, we don't have the time to make this the first priority, so let's just keep it absolutely pure, the way our fans like it. And we have hardcore fans, but like zero money. I think I've made 600 bucks on Juan Epstein total. [Laughs]. But yeah, it's so weird. Like, Nore's life is paid from his podcast and I'm like, how did you do that? How did you make the money?
How was the live show that you guys did recently?
It was great. We purposely didn't put a guest on the first wave of promotions because we wanted to see, do we have any loyal Juan Ep fans? Do they wanna come see us? We did Grandmaster Flash and Red Alert and it was one of the most amazing nights because we just did Juan Ep in front of people and you hear live laughs, as opposed to doing it on the podcast, putting it out a week later, and then you get comments. So it was fun.
Will the show continue in any form? Have you guys talked about that?
It's funny. We're busier now and I'm not at the [Hot 97] radio station. Being at the radio station, we would get a lot of guests because they were coming to do radio and we would snag them.
Speaking of Hot, do you ever listen to them anymore?
Never. Never. I never listen to Hot. I can't, it hurts. It feels too weird. I mean, I don't listen to music in my car at all, so that's part of it. I only listen to music in headphones, if I'm taking the train. The only time Hot 97 is on if my wife's in the car because she's listening to it. I'll listen to specialty shows, like Bobby Konders & Jabba, the reggae show. I'll listen to Drewski, who plays new artists. But I never listen to the morning show. It's too weird. It's too weird. And I'll yell at Ebro, because Ebro will do something that he used to yell at me for when he was my boss. I miss it though.
You were just on the Breakfast Club. What was it like?
I left Hot 97 three years ago in February. I walked into the Breakfast Club interview, and it was like I left yesterday. They brought up all the old beef shit from like three years ago. In my mind I'm like, "It's three years ago, guys," and they brought it up like it just happened. But it was great. Angela Yee is a good friend of mine. Her first radio show ever was when we were on Sirius together, so I love her. Envy is very cool. We're not really friends, but we're very cool DJ brothers. When he was at Hot, he went through a lot of crazy shit and he left to go to Power. Charlamagne, I never worked with but we're also very cool.
People were like, "They're gonna go at you." I'm like, I know what they're going to ask, and they asked everything I thought they would. It felt weird but also, like I always say, when I was at Hot 97, the last two years I had Stockholm Syndrome. I don't have that feeling anymore, so going to Power felt a little weird but not as weird as it did when I first went on, right when I left Hot 97. I did a guest DJ spot on Angie's show, and as I was doing it I was like, "I feel like a traitor." The wound was raw, you know? It doesn't really matter, you're just on a radio station.
So what's next on the horizon for Cipha Sounds?
A lot. I'm pitching three different TV shows. What I always say is that I just need a point on the board. I'm telling you, this truTV thing and a couple other little things that happened recently—Dave Chappelle stuff, Breakfast Club interview—they came together and it seems like it's rolling downhill now. I got a bunch of TV concepts, producing some shows for other people. I got some web series I'm about to do, so just be on the lookout.