Every year, the Victoria's Secret Fashion Show is a huge, highly-anticipated affair that has basically become a showcase of models and celebrities. This year, the event will be held in Shanghai, China, but you won't see two celebrities present: Katy Perry and Gigi Hadid. Katy Perry, who was set to perform at the show, as well as one of the biggest names to be associated with the Victoria's Secret brand, Gigi Hadid, have been banned from China "indefinitely" and have been unable to score visas to enter the country, Page Six reports.
The reason Katy Perry was banned from the country involves China's complicated history with Taiwan. At a 2015 concert in Taipei, Perry wore one of her trademark statement dresses, but this one was sparkly and covered in large sunflowers. She also wore the flag of Taiwan as a cape during the concert, as many performers have done in many other countries. What was likely a fun and playful way to show her excitement for playing in the country looked, to Chinese officials, like a political statement. That's because sunflowers became the symbol of a 2014 anti-China political movement involving Taiwanese students who protested a trade agreement with China that they saw as unfair to Taiwan. Taiwan has been struggling for independence from China for several years.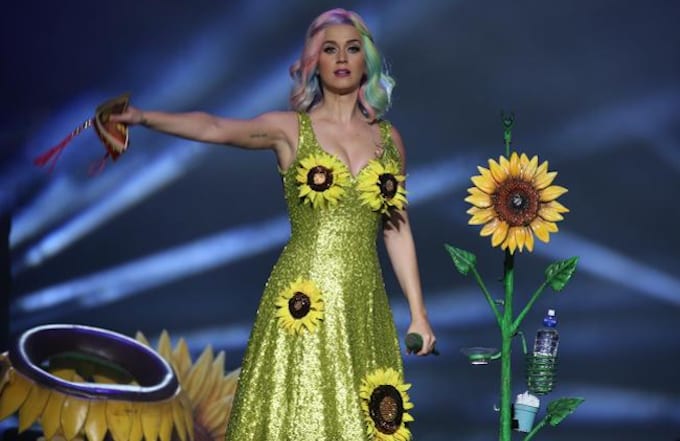 "She was initially granted a visa to perform at the VS show in Shanghai, then Chinese officials changed their minds and yanked her visa," a source told Page Six. "For every artist who wants to perform in China, officials comb through their social-media and press reports to see if they have done anything deemed to be offensive to the country. Maroon 5 was banned a few years ago because one band member wished the Dalai Lama happy birthday on Twitter."
Harry Styles has been tapped to replace Perry as a musical performer at the fashion show.
The reason Gigi Hadid will not be walking in the Victoria's Secret Fashion Show is less political. Back in February, Hadid was filmed holding up a cookie shaped like Buddha and squinting her eyes.
The video went viral, and the model received a lot of backlash on social media for what many deemed a racist act that made fun of how Chinese people looked and perpetuated stereotypes. That act alone, which was posted by Gigi's sister Bella and appears to have occurred at a birthday party but was later deleted, reportedly got her banned from the country. Hadid walked in the show in 2015 and in 2016. 
This year's Victoria's Secret Fashion Show is set to air on November 28 at 10/9C on CBS.