Goddammit. The All Lives Matter epidemic, a despicable disease, has now infiltrated the brain of a Walking Dead star. Jeffrey Dean Morgan, a.k.a. noted baseball fan Negan, evoked the vomit-inducing phrase during his recent defense statement in response to the backlash he received for rocking an ugly-as-all-fuck Blue Lives Matter T-shirt. What I'm saying is: Blue Lives Matter tees, no matter the design, are inherently ugly.
"Can't believe I need to explain to you this fact," Morgan said in a since-deleted Facebook post, according to BBC News. "All lives matter. All of 'em." Morgan went on to explain that the shirt, which he was photographed wearing, was given to him "at a convention by a woman, whose son, was shot during what was a routine traffic stop."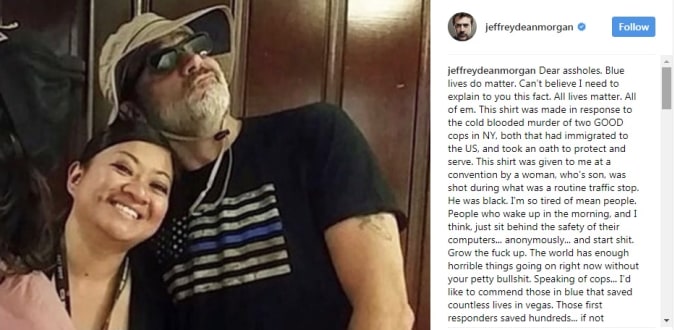 Though Morgan also expressed his somehow simultaneous support of (far more deserving!) Black Lives Matter activists in subsequent statements, the controversy—even among surely weathered Walking Dead viewers—has persisted:
"Of course black lives matter," Morgan later explained. "I stand behind that. Always have. This country means the world to me. The good people in it mean the world to me... the ones [sic] looking for a fight around every corner? Racists? Bullies? They don't. We are a country divided and it's getting scarier every day."
Blah blah blah. Black Lives Matter is the one to put your weight behind, celebrities.
But anyway. The Walking Dead is fucking trash now.
Enjoy the rest of your day.