Twenty years ago, on the weekend of August 2, this is what the box office looked like: A Time to Kill was number one, Independence Day continued to rake in money, and opening in the 22nd spot, grossing $658,614 on 408 screens, was "a hip-hop beach movie" called Phat Beach. The movie tells the tale of teenager Benny and his corruptible, horny friend, Durrel, whose main interest is driving to Venice Beach to pick up some "beach bitches." To that end, Durrel convinces Benny to quit his job, "borrow" his dad's car, and drive from Bakersfield to Los Angeles. Once at the beach, they encounter "Beastie Boy reject" Mikey Z and a score of women in bikinis. They also quickly run out of money, so they enter a volleyball tournament with a $10,000 purse. 
Phat Beach hopped on the early Nineties trend of casting mostly black actors in a comedy, following movies like House Party and White Men Can't Jump, but the movie excelled in its minimalism where those others emphasized flash. Helmed and written by a white guy, Entourage's Doug Ellin, and with only one white guy in the main cast, Phat Beach dealt with universal themes of growing up. There's something insouciant about the movie. It's pure escapism, devoid of violence. The movie had Chris Rock reeling, found a fan in Kendrick Lamar, and to this day, the actor who played Benny, Jermaine Hopkins, says people still come up to him on the street and yell "beach!" at him.
Despite its difficulties getting made, at the end of the day, Phat Beach is about a group of neophyte actors and crew members who had a passion for independent film, and who wanted to tell a story about friendship and hedonism in the funniest way possible. Here's how Phat Beach, now on Hulu, became the greatest (and perhaps only) hip-hop beach movie of all time.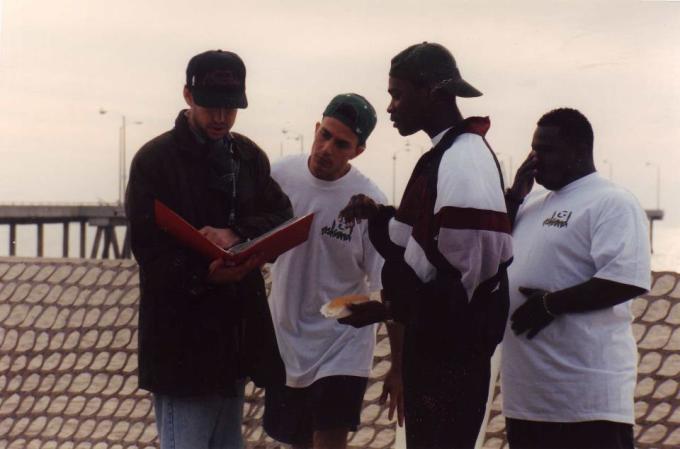 Phat Beginnings
Before Phat Beach, Doug Ellin attended the American Film Institute and wrote and directed two shorts, including The Waiter, starring a pre-Friends David Schwimmer and produced by Ladd Vance, Gregg's Vance's (Mikey Z) brother. Based on that short, producer Cleveland O'Neal made Doug an offer to write and direct his first feature film, what would become Phat Beach. Around the same time, O'Neal had started his production company, Connection III Entertainment, and had found success producing after-school specials for CBS.​
Cleveland O'Neal (producer, co-writer): I loved the Frankie and Annette beach movies. I thought there was a flavor and innocence to those. We really wanted that explosive innocence, and hip-hop was really coming into its own. I thought, why don't we do something that's never been done—a hip-hop beach movie. And that's what I did. 
Doug Ellin (co-writer, director): I was a 22-year-oldkid and I wasn't fully out of film school yet. Cleveland O'Neal sees this short film I did and calls me up and says, "You're perfect to direct this movie." That doesn't happen to film students coming out of film school. You can't even get porn that easily. I said, "What is the movie?" and he said, "Phat Beach." And I said, "Phat Bitch?" 
Cleveland O'Neal: Phat Beach—it just came to me.
Doug Ellin: The word "phat" really was not in the lexicon. I had no idea what the word was when he called me. None. And I said, "How am I perfect for this?" 
Cleveland O'Neal: We sat down and wrote the story, and then Doug attacked the screenplay and did rewrites. People kept saying, "Oh, this is all so great. When are you going to pitch it to Warner Bros.? When are you going to pitch Fox?" "I'm not. Why would we do that? There's nothing to pitch." We took 35mm film, put it in a camera, went to the beach and started shooting. That's what we did.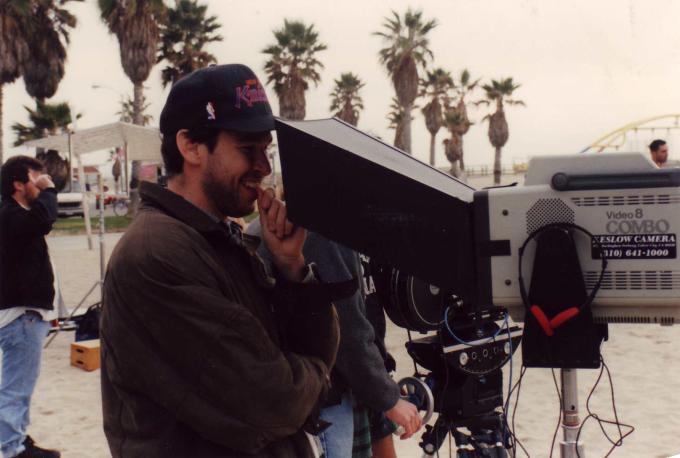 Doug Ellin: As far as I recall, I changed everyone's dialogue. I'm not sure I knew much about story at that point or how to change it. The story was essentially two kids go to the beach to win a volleyball tournament. And Huggy's got this amazing serve.
Jermaine "Huggy" Hopkins (Benny King): I've always played volleyball. It was one of the sports that you could play where your weight didn't hold you back. I always participated growing up as a chunky kid, and I got good at those games.
Because it was a non-union film, they had to hire unknown actors, some of which had not been in a feature film before. Jermaine "Huggy" Hopkins was the only established actor; he'd starred opposite Morgan Freeman in 1989's Lean On Me, and acted with Tupac in Juice. 
Jermaine Hopkins: They got in contact with me and said they had this script and they wrote Benny with me in mind. It was in California on the beach, so I was like, "Shit, let's do it!" At the time I was living in North Carolina, so I flew out and I met with Cleveland, his brother, and Doug Ellin. We went over some lines, and they were sure they'd made the right choice.
Cleveland O'Neal: It was not written for Jermaine, but I will say that as we proceeded, many of us thought of him from Lean On Me as a great possible casting choice.
Brian Hooks (Durrel Jackson): At the time, I hadn't done anything. And this was a leading role, a hip-hop beach movie. It's not like there's a million roles for a young black guy to star in, so that was motivation enough. Originally I had an agent at the time, Barbara Cameron, who is Candice Cameron's mom. But I submitted myself though Drama-Logue, now Back Stage West. I got the call and I ended up reading like four or five times before they finally made the decision. 
Doug Ellin: I thought Brian was one of the funniest people I'd ever met. The other funny thing, and he still holds it against me: Anthony Anderson read for Huggy's part and I didn't give it to him. I think the reason that we hired Huggy over Anthony was because he was a SAG actor and he was willing to waive his status. 
Candice Merideth-McFashion (Tasha King): My elementary school principal decided that she wanted to be a talent agent and gave all the kids at the school an opportunity to audition for her talent agency. I figured I'd give it a shot, and they liked me. Phat Beach was my very first audition. I remember just going in the room, and going over the lines. Cleveland and Doug were all laughing. I'm just like, "What's so funny?" Probably a week or two later, I got a callback and found out I got the part. 
Gregg Vance (Mikey Z): When I read the script, it was very intelligent. It was my first lead role and exactly what I was looking for. Doug thought I might be good for it, but Cleveland had to make the final pass. They had every white boy in Hollywood lined up, with a hat on backwards and a gold chain, and I was sitting there going, "Oh my god."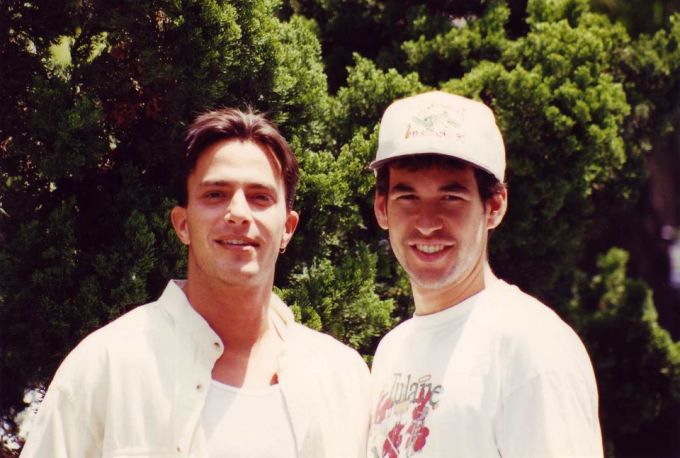 Candice Merideth-McFashion: My mom, when we did get the script, said to me, "There's about one or two curse words and I'm giving you permission to say these words only when they say action. If you say it anytime when this is not filming, you are going to get in trouble." I was excited to even have permission to even be able to say it. 
Gregg Vance: I was excited we got Huggy from Juice and Lean On Me, because he had worked with Tupac. We were more street comedy actors that were given roles that had a lot of comedy in them but we kept the street flavor, which made it recognizable in the African-American community as a hip-hop classic. 
Coolio is in the movie for two scenes but made an impact on the cast and crew—and made it on the film's poster. 
Doug Ellin: That was Cleveland's genius. Cleveland got him right at the time when he was about to explode. I don't think there's any movie in history where somebody who is in the movie that little is on the poster. They were willing to market him like that. I had nothing to do with the marketing. That's what they thought could help sell it. 
Cleveland O'Neal: We were fortunate to have someone like Coolio, who was on his way up, as opposed to the other way around. He was reaching his crescendo. He was still on his way to greatness. And he loved what we were doing. He loved the script, he loved the concept. And we knew we needed him. We couldn't be a 100-percent unknown cast.  
Jermaine Hopkins: Coolio is my man. At that time, I had never seen a Hummer before. This guy had a real one. He didn't have one of those Hummer H2's, he had the military joint. That was the first time I got to ride in one of them. We went out a couple of times and had a good time. 
Candice Merideth-McFashion: I did meet Coolio. I think that was one of beach scenes when I met him. He's a cool guy. I found out later he's [my husband's third cousin]. I haven't seen him since, though. It's a small world. 
Brian Hooks: Coolio was Coolio. He didn't need to go into the trailer to become Coolio. He also didn't come with any kind of ego. He was only there for a couple of days. It was fun and cool to be able to meet someone, who at that time, had some of the hottest records out. 
Jermaine Hopkins: Wesley Snipes and Woody Harrelson came by to say hello to me. I had a few gangbangers stop on the set that showed a lot of love, Crips and Bloods both. It was real cool. 
Brian Hooks: Wesley Snipes came to the set when we were in Marina del Rey because he stayed in one of the high-rises over there. He walked down to the set—of course there were a lot of beautiful women in bikinis, so [there was] a lot of motivation for him. We had a conversation once he found out I was starring in the film. He gave me some words of advice: "Always be cautious, be on top of your business, and always look at things with your third eye." I was like, "I only have two eyes, Wesley, I don't know what the hell you're talking about." In hindsight, use your brain as a third eye. Just really be thoughtful and mindful about what you're doing, and the opportunity presented to you.
The Phat Release
Depends on who you ask: Filming either lasted 12 days or 20 days, and production started in either 1994 or 1995. O'Neal says the production scheduled "a 14-day shoot in December 1994 followed by an eight-day shoot in April 1995." But the project ran out of financing during filming and shut down for a few months before returning for reshoots. Let's just say this was an archetypal 1990s indie film, with some continuity errors thrown in.
Doug Ellin: They call me and up and tell me they're going to release it. "Release it where?" Not only did I not expect that movie to be released, I didn't want it to be released. I was like, "We can't put this out in a theater."
The first time I got to see the movie was at the Galaxy in Hollywood, on this big, beautiful screen. I never even knew what it looked like. Whoever hired the stunt guy, they brought in an Asian guy for Jermaine Hopkins, for this little car crash sequence. He was in blackface. When they showed it at the screening in front of a thousand people, they went bananas. They were like, "Jackie Chan is in blackface!" I was like holy shit, I never even saw that. Things like that would happen on the movie. There's a girl in that movie. If you watch it, she's white, then she's black, then she's white again. She's got sunglasses on. She changes in the middle of the movie. Watch it carefully, on a big screen, and you'll notice those things.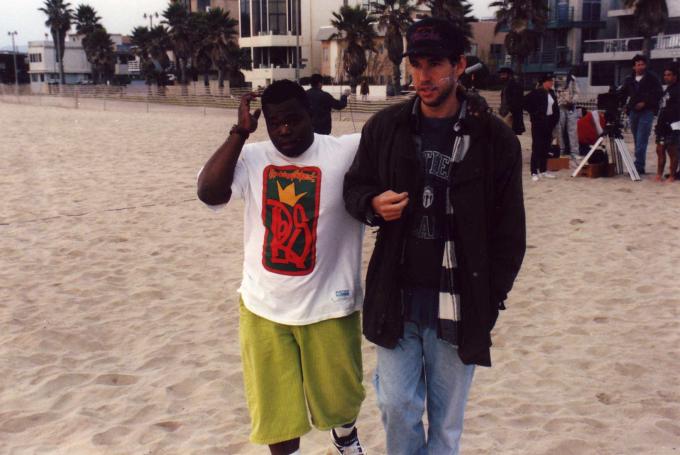 Jermaine Hopkins: They'd film some, and then a few months later come back to film more. If you watch the movie closely, my hairstyle kind of changes in between scenes and that's because that's the way they shot the movie. 
Doug Ellin: When they had the premiere and Cleveland wanted me to come up to the front, I didn't want to. I did not expect a warm reception.
Gregg Vance: We had a premiere on Hollywood Boulevard with a red carpet. It was amazing. My family came and Doug's family came. Everyone had all the seats reserved. It was one of the greatest experiences of my life, I gotta tell you. 
Brian Hooks: They actually did have a pretty big premiere in Hollywood at the Mann Chinese. I'm just a kid from Bakersfield and now I'm in this movie and now we have a premiere with this movie that I'm starring in with this huge after party with all these people who I know and watched and looked up to. 
Jermaine Hopkins: I didn't even think the movie was going to come out. The information that was coming from Doug and the producers—you know how rough it was getting it into the theaters. But I think it turned out better than what I thought it'd be.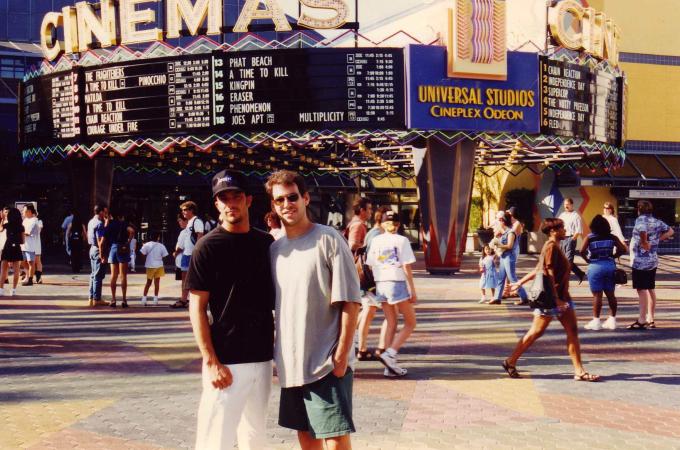 Not all of the reviews were kind. The Washington Post wrote, "It's weakly plotted, badly filmed, terribly acted. It's low-phat," and referred to Hooks as "a poor man's Martin Lawrence."  The New York Times called it a "simple-minded comedy." 
Doug Ellin: As I recall, Variety trashed the movie badly. I think they said the redeeming feature was my friend Gregg, who was a budding comic star.
Gregg Vance: Variety recognized me. My performance was recognized. It stands out there with the early days of Vanilla Ice, Marky Mark, and Zebrahead with Michael Rapaport.
Cleveland O'Neal: I did like that Chicago Tribune said, "Hey, let's look at this more from an Easy Rider perspective." 
Doug Ellin: When Chris Rock started talking about it, I was pretty blown away. He was like, "It's the downfall of black America," or something. Just the fact he was talking about it, to me, was pretty great.
Brian Hooks: I remember they pretty much said the Brian guy was funny but this film was shit. I think a film like that, it was what it was. It was this beach movie. It was never going to be selected for Cannes. This was very purposefully shallow; offfensive at times. That's what the movie was, and if it wasn't for you then I respect that. But some people did enjoy it. 
Candice Merideth-McFashion: It's amazing how a lot of people love that movie. I was actually at a birthday recently and my cousin is related to Kendrick Lamar. [Kendrick] came up to me and told me, he said, I love Phat Beach. I couldn't wait to tell Cleveland.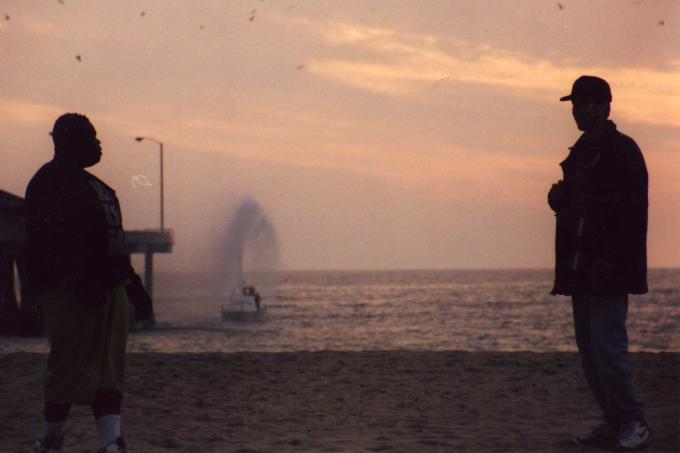 The Phat Legacy
The biggest success story comes from Doug, who created Entourage, and whose next big release is November's Bad Santa 2. Last year, he won an Emmy for executive-producing the 30 for 30 documentary When the Garden Was Eden. All of the cast members continue to act, and write-direct their own independent projects. Candice interned at Connection III in high school, and 14 years later she's still at Connection III, now as Production/Distribution Administrator. Everyone, including Doug, owes so much of their careers to Phat Beach.
Gregg Vance: Remember Menace II Society, the Hughes brothers, and Larenz Tate? These guys are in my gym, and they consider me an equal. I was in one of those hip-hop independent films like they were, and it's an honor to be recognized like that, because that was our dream. We really seized the moment. 
Doug Ellin: I wish I could've made the script a little better. It was a great learning experience and a wild ride. When it comes on cable, I can't believe this movie plays on TV all of these years later, and, honestly, I feel very good about that. Cleveland hired me for one reason: to get him a movie that could make some money, and he definitely made some money off of it. I didn't wake up one day and dream about making Phat Beach. It was a job, and anytime when you're young and someone's willing to let you get behind the camera and be in charge of anything, it's a good opportunity. 
Cleveland O'Neal: They use the word net profit. Let's put it this way: All of our partners did well, we certainly did fine, the DVD sales were brisk. Theatrical business is really hard so you really do need a major distribution to really crack a wide release, and in so doing you end up sharing so many of the rights that it's hard to use the word profit. But we didn't lose any money at all. 
Doug Ellin: After the movie came out, I got an agent and I was getting meetings. I was embarrassed by the reviews, obviously. It wasn't thrilling to have my parents read that stuff. But people, fortunately, were willing to recognize that I had some talent. Though, when my agent would send me around to meetings, I think they expected me to be black.
Brian Hooks: Doug was super cool. Just getting to know him while we were shooting, his mindset and his vision, it was clear that it was a matter of time before he did Entourage. Doug is incredibly talented. There will be another Entourage from Doug soon. Something as strong as that, because he's that guy.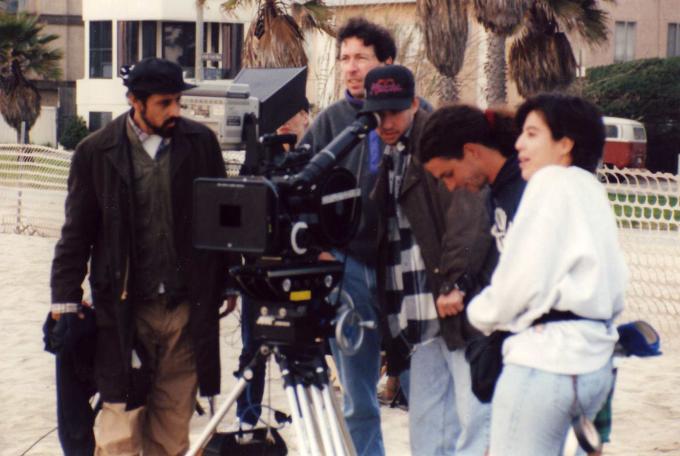 Cleveland O'Neal: This was a scrappy independent effort that survived and made it through. There certainly are some enjoyable aspects of it. It was never ever intended to win an Oscar, and as an independent picture that got wide theatrical release, it was a solid accomplishment.
Candice Merideth-McFashion: I think people want to laugh. Phat Beach is just one of those movies that can take you away from the craziness of reality and give you a good ol' laugh. 
Jermaine Hopkins: I want to say thanks to Cleveland O'Neal for seeing that window that nobody was looking out of at the time and incorporating hip-hop with the beaches across the country. It's been a hell of a ride, a hell of an inspiration.
Brian Hooks: We ended up making a little niche classic film and it still lives on today. People still approach me about it, which is funny. It's like, "Where are the beach bitches?" "What are you talking about? Don't be like that." So it'll take a second: "Oh shit, yeah. Phat Beach."
Doug Ellin: Twenty years later, I'm proud of what we did with limited money. And there's some laughs in it, and I stole one of my own lines and put it in Entourage, 15 years later: ["Friends are girls who you haven't fucked yet"]. At the end of the day, it was a movie about some kids who go and win a volleyball tournament.