Baywatch is truly a feat of American television, right up there with Mad Men and Breaking Bad as one of the most enlightening shows ever. Without it, we wouldn't have reliable sources of entertainment like David Hasselhoff and/or David Hasselhoff's chest hair. But what really happened behind the scenes of the classic show that's now inspired an R-rated reboot starring Dwayne "The Rock" Johnson and a musical set for release in 2018?
Michael Berk and Douglas Schwartz, two cousins who produced the original series and are apparently down for dishing the deets, spoke with the Hollywood Reporter Friday to get to the core of Baywatch's magic. As it turns out, that "magic' was also riddled with a fair amount of drama.
I'm not too sure what the Hoff is doing in that GIF, but here's what he was doing during the golden years of Baywatch: keeping Leonardo DiCaprio as far away from the show as possible. "We actually had DiCaprio ready to be cast," Berk told THR. "But David thought he was too old to play his son." For the record, DiCaprio was 15 years old at the time. "David thought it would make him look older," Schwartz added. "He had a lot of concerns of that type."
Another one of the Hoff's concerns was the arrival of Pamela Anderson, who joined the series during its second season. "David said, 'I don't want a girl that's been in Playboy,'" Berk revealed. "He said, 'Children watch this show.'" Lame, Hoff. Hella lame.
Schwartz added that Hasselhoff was perhaps a bit more worried about anatomical matters, not the supposed children watching his show. "She had these enormous breasts," Schwartz told THR, "and David thought he would be upstaged by everyone looking at her breasts. Which is what happened."
Schwartz and Berk have plenty more Hoff revelations where those came from, which are peepable in full here. As for The Rock's R-rated reboot, both Anderson and Hasselhoff are set to make appearances alongside beach newcomers Zac Efron, Kelly Rohrbach, Alexandra Daddario, Priyanka Chopra, and Hannibal Buress: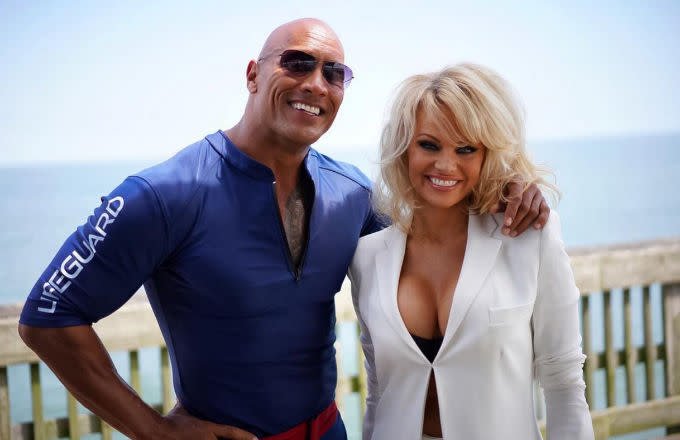 Baywatch opens May 19, 2017. Much like its source material, Leonardo DiCaprio will be conspicuously absent.