Lady Dynamite is a show packed with a myriad of gems and Easter egg jokes. The series premiered on Netflix on Friday, May 20, immediately confusing, delighting, and confusedly delighting viewers. The kooky comedy starring comedian/actress Maria Bamford (as an exaggerated version of her real self) and created by Arrested Development's Mitch Hurwitz has an otherworldly vibe that's probably unlike anything else you're watching right now. In the show, too, Bamford stars as a comedian, dealing with mental illness (something she's mentioned in her stand-up frequently), and it uses surreal asides and daydreams as part of its hallucinatory effect. Dynamite also breaks walls to the point of entering an entirely new dimension, but keeps itself surprisingly earnest despite all its peculiarities. The show seems to have a sort of "What is this and why do I like it?" response, and its Netflix format has allowed for the kind of binging that swallows you up in all its quirkiness. Already it's been lauded as a show that addresses—and respectfully handles—mental illness, while finding humor in it. In other words, Lady Dynamite is both bonkers and good. Like, capital G Good.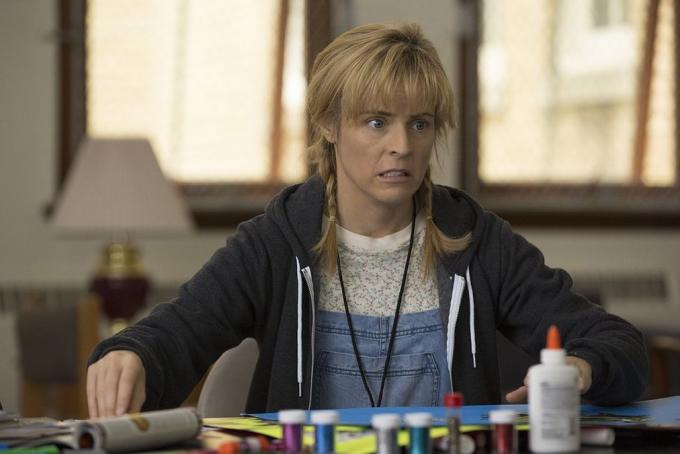 Some of the show's gems include guest spots from Sarah Silverman, Jenny Slate, Ana Gasteyer, and Patton Oswalt. The lineup of comedian cameos is one of many things that makes Dynamite the hilarious show it is. But arguably the weirdest cameo comes from Sugar Ray frontman and occasional actor Mark McGrath (his appearance in 2002's Scooby-Doo still haunts me, by the way). McGrath shows up halfway through the half-hour pilot, casually hanging out poolside when a bucket hat-wearing, noodle-straddling Maria yells, "Mark! Mark! Mark! Mark McGrath!" McGrath is visibly annoyed at running into Maria, which prompts her to ask, "Did I disappoint you sexually?"
"You? Me? Are you kidding me?" he responds. "I'm Mark McGrath! I can bone this entire water polo team with my hands tied behind my back."
Of course, he then clarifies, "And that's how it would have to happen because I'm straight. Super straight!"
Mark's aggressively assertive line fits with the ludicrous nature of the show's dialogue, but those who've been keeping tabs on the Sugar Ray singer may have caught that the bit is also an inside joke (and therefore, one of those brilliant Easter egg jokes I mentioned earlier). 
His insistence on being "super straight" has to be a joke on his homophobic meltdown a couple years ago when a teen boy called him "Sugar Gay." If you're unaware, then brace yourself for this cringe-worthy and unnecessarily long freak-out:
Honestly, "Sugar Gay" gives me the giggles because it is the most juvenile of insults, but Mark McGrath's fragile masculinity unfortunately gets in the way. Unable to brush off what is not even that clever of a pun, he starts screaming back threats and insults. 
"Who said Sugar Gay? I'll beat your fuckin' ass," McGrath can be heard yelling. "Who said that? I'll choke your fuckin' face."
Someone else (off-camera) asks for an autograph and McGrath grants him one, "as long as you beat the fuck out of that guy right there," pointing at the poor teenager whose joke garnered way more attention than it ever deserved. "Are you done?" he asks, almost chest-to-chest with the boy, before saying what might be the comeback of the century: "Tweeze your nipples, bro."
At one point it looks like Mark McGrath might be on the brink of bursting into laughter, perhaps realizing what a man-child he is being. But he's just too heated to let it go. 
Just a year before the meltdown, in 2013, McGrath got candid with Rolling Stone, saying, "I've done a lot of douchey things. I understand why people don't like me." McGrath has apparently long been self-aware, and his hyper douchey turn on Lady Dynamite proves that again. His cameo on the show allows him to show his sense of humor on the matter, using the Making Fun of Yourself route as a form of apology (something celebrities have done before to put out PR fires). Perhaps he took a cue from Alec Baldwin—a fellow notably douchey celebrity—who, after being his usual asshole self (by refusing to stop playing Words With Friends on a plane), went onto SNL's Weekend Update to mock himself. Sometimes, the best PR disaster extinguisher is self-mocking humor. Congrats, Mark McGrath, now we're laughing with you.