Science already told us about the four different types of drunks, but they disappointingly excluded one category of drunk from their statistical tomfoolery: people who don't eat meat. According to a recent study, a downright nonsensical amount of vegetarians admit to getting totally wasted and consuming various forms of dead animals. Though the majority of respondents (63 percent) said they maintain their "personal dietary codes" no matter how wasted they get, the less-encouraging majority of those polled who did admit to drunkenly eating meat say it happens frequently.
U.K.-based discount code website VoucherCodesPro conducted a poll with 1,789 British vegetarians and found that 37 percent of all respondents admitted to consuming meat after officially becoming drunk, according to esteemed literary journal Fox News: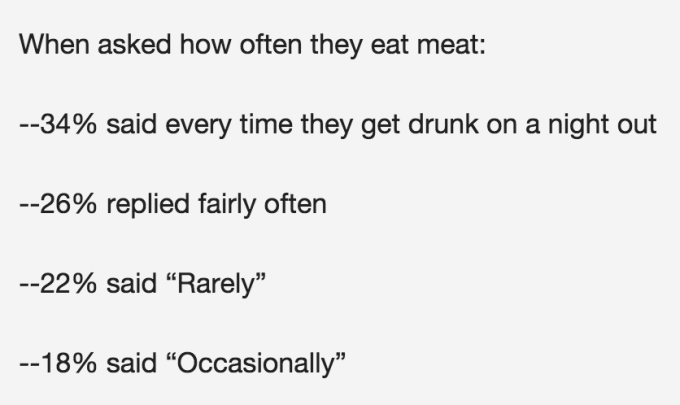 The most compelling and/or troubling revelation of the study was the frequency at which wasted U.K. vegetarians consumed "kebab meat," which is officially the most-consumed meat of such otherwise health-conscious drunks. This, of course, points firmly toward a larger problem within society. One can't help but imagine, what if Drunk UConn Mac-and-Cheese Guy had been a vegetarian or even a vegan? He could have quickly whipped up his own batch of "fucking bacon jalapeño mac-and-cheese" without leaving his (now former) apartment, using ingredients that probably don't expire until 2055 or something.
Then again, maybe we should all start planning to just move to Mars and start over.