Will 2015 be the year that resident nincompoop Donald Trump finally reveals himself to the world as the haphazard performance artist American politics has been craving since its hypocritical beginnings? Well, no. Donald Trump is sadly very much a real person with real money and (somehow) a real platform from which to expel his dangerously dumb rhetoric.
You don't need me to list the year (thus far) in Trumpisms, though a brief rundown — racism, El Chapo, Nazis — easily conjures a nauseating blend of uncontrollable laughter and impenetrable sadness. Thankfully, one publication is standing up to the ill-haired miscreant by refusing to acknowledge his presidential campaign as anything but an exhausting exercise in mindless distraction.
In a statement released Friday, The Huffington Post expressed their reasoning behind covering Trump's campaign as entertainment — i.e. not politics — in the most beautifully succinct way imaginable:
After watching and listening to Donald Trump since he announced his candidacy for president, we have decided we won't report on Trump's campaign as part of The Huffington Post's political coverage. Instead, we will cover his campaign as part of our Entertainment section. Our reason is simple: Trump's campaign is a sideshow. We won't take the bait. If you are interested in what The Donald has to say, you'll find it next to our stories on the Kardashians and The Bachelorette.
The Huffington Post paired its statement with a subtle modern art piece aimed at dissecting the, well, actually it's just a well-placed Apprentice reference: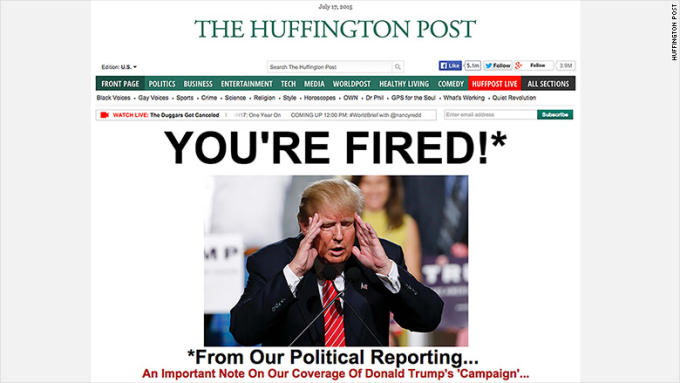 Unnecessary Kardashian jab aside, the motion still carries: Trump is a clown, and an unskilled one at that. "The impact he's having on the Republican Party and the immigration debate is itself a real thing," says Washington bureau chief Ryan Grim. "We'll cover that as substance, but anything that tumbles out of his mouth will land on the Entertainment page."