A police officer in Berkeley, Mo. fatally shot a black man who reportedly pointed a gun at him last night, authorities say. 
According to the Associated Press, St. Louis County Police Department spokesman Sgt. Brian Schellman said the officer was checking on a gas station in the St. Louis suburb just after 11 p.m. when he was approached by two men. When one of them allegedly brandished a handgun, the officer opened fire, killing him. 
In his statement, Schellman said the other man fled, noting that police recovered the weapon. While police declined to release the victim's name, a woman who identified herself to the media as Toni Martin said he was her 18-year-old son, Antonio Martin. Martin told NBC News that her son had only gone out to see his girlfriend: 
He only just left the house to go see his girlfriend. Maybe he started to run and they got shooting, she said, adding that she did not think her son was carrying a gun. Toni Martin — who said her son's girlfriend had told her about the shooting and brought her to the scene — told reporters Antonio had turned 18 in September and used to attend nearby Jennings High School.
Toni Martin mother of police shooting victim #Antonio Martin speaking with reports https://t.co/MtMvF5ekJM

— Search4Swag (@search4swag) December 24, 2014
NBC News adds that a crowd of roughly 200 people convened near the gas station, leading to a brief altercation with police.
At the scene of the police shooting that just happened in St. Louis. 18 year old Antonio Martin was shot. pic.twitter.com/RIU79XL039

— I CAN'T BREATHE #SOS (@Thisl) December 24, 2014
The incident took place about two miles from Ferguson, Mo., where 18-year-old Michael Brown shot and killed by Officer Darren Wilson. A St. Louis County grand jury elected not to indict Wilson in November.
The shooting is currently under investigation by the St. Louis County police. Schellman's full statement can be found below:
The official police account of what happened tonight. #AntonioMartin pic.twitter.com/VUGNk4dode

— Shaun King (@ShaunKing) December 24, 2014
UPDATE: The St. Louis Post-Dispatch reports that Schellman offered a few more details about the situation. He also announced that police will brief the media during a press conference this morning: 
St. Louis County Police Sgt. Brian Schellman says police will give a media briefing about the shooting in Berkeley at 7 a.m.

Meanwhile, Schellman said he has seen video from cameras at the gas station where the shooting occurred. He said that footage will be released soon.

You can see the gentleman raise a handgun and the officer fire a shot, Schellman said.

He said that, based on footage he has seen, the officer was carrying a flashlight when he approached two people at the Mobil gas station and engaged in a conversation. He also said it appears that the officer did not pull his weapon until one of those people pulled a gun.

Schellman said police are looking for the second person who was with the person the officer fatally shot. Police have not released that person's identity.
Below is surveillance footage of the encounter:
UPDATE #2: The St. Louis County Police Department has released two videos showing the incident from two different angles: 
The police department also released images of the gun recovered at the scene.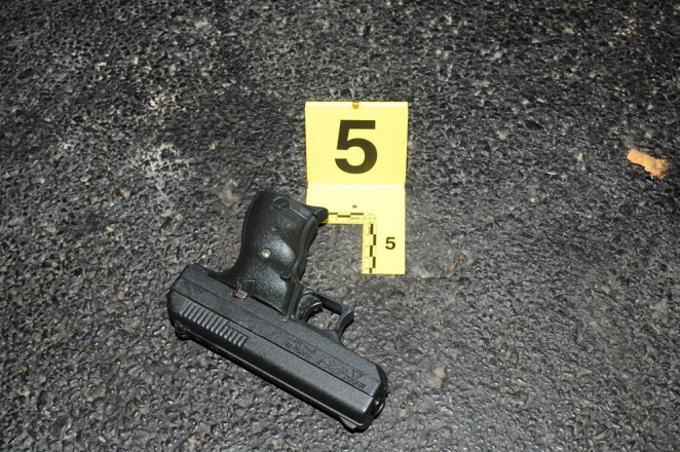 [via Associated Press and NBC News]