Only hours before Red Bull Culture Clash 2017 was due to start in Atlanta, GA, the announcement that Popcaan wouldn't be performing with his Unruly crew had just come through. An issue with travel documents had ruined the Jamaican superstar's plans, but his crew were still confident that they would win against the rival sounds; namely Mike WiLL Made-It's hometown favorites EarDrummers, Wondagurl's EnjoyLife from Canada, and Tinie Tempah's Disturbing London from the U.K.
"We Unruly! We don't follow rules, we do what we do. We are the authentic creators of this thing," Unruly explained as they finished final preparations for the night's clash. 
The Red Bull Culture Clash is based on soundclash culture, with different crews competing to win over the crowd with their music. "It's originated from Jamaican culture," the Unruly crew explains. "Clash is when sounds string up side by side and compete against each other with tunes, the best DJ, trash talk—it's just a competition, like a rap battle but with the sounds. It's our version of back in the day when you had KRS-One versus Marley Marl."
Debuting in London in 2010, Culture Clash is split into four themed rounds, with the winner of being whoever can get the loudest reaction from the crowd, according to a decibel counter. It's become clear over the years that staying as true to the original spirit of Jamaican soundclashes as possible is the best path to success. Simply playing hot songs doesn't cut it—you need exclusive tracks calling out the other crews, special guests, and a whole lot of smack talking. Unruly knew this well, and Popcaan has already been part of one Culture Clash victory, helping the Mixpak collective win last year in London with a huge dub of Drake's "One Dance."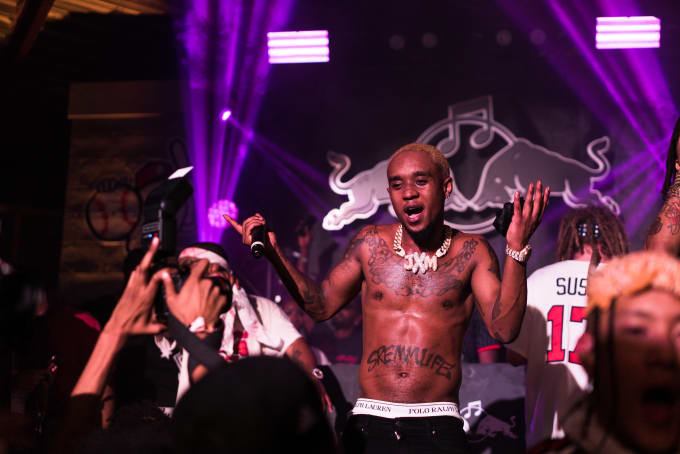 Mike WiLL Made-It was the hometown favorite and he quickly brought out rap stars Rae Sremmurd to huge cheers, but it was clear from the very first round that Unruly knew what the crowd wanted with their mixture of dancehall, reggae, and rap. The special guests then came thick and fast, with Pusha T, SahBabii, OJ Da Juiceman, Sonny Digital, Ludacris, Pastor Troy, and the Ying Yang Twins all appearing on stage for various crews. 
Although Disturbing London and Enjoylife had some strong moments, it soon became clear that this clash would be won by EarDrummers or Unruly. After Mike Will's hometown crew won Round 2, Jamaica's Unruly got the best reaction of the night by bringing out Atlanta rap legend Jermaine Dupri. They carried that momentum into the final round—no Popcaan, no problem. With all their combined years of experience and understanding of clash culture, Unruly chose the right songs at the right time, saving some of their biggest moments (a Gorillaz video intro, a "Wild Thoughts" dub, lots of heavyweight dancehall) for when it mattered most. 
By this point, Unruly had the crowd in the palm of their hands, and the decibel counter used to see which crew got the loudest cheers from the crowd only confirmed it—Unruly were the winners of Red Bull Culture Clash 2017, representing for Jamaica and doing Popcaan proud in his absence. 
See more pictures from the night below.