Judging from their music, Kodak Black and Pooh Shiesty are cut from the same cloth. So despite exchanging words in the past, Black jumped into Shiesty's comments section to show that they are two-of-a-kind. 
On Monday, Shiesty posted a picture of himself in a convenience store. In the post's caption, he reflected on past feuds. 
"Anybody That Got Smoke With Me Got Shot At Or They Tried To Fix It," the Memphis native wrote. This prompted Kodak Black to slid into the comments section to let Pooh know that he can "relate" to this feeling. 
"I Can Relate Lil Bra I Can Relate," Black wrote.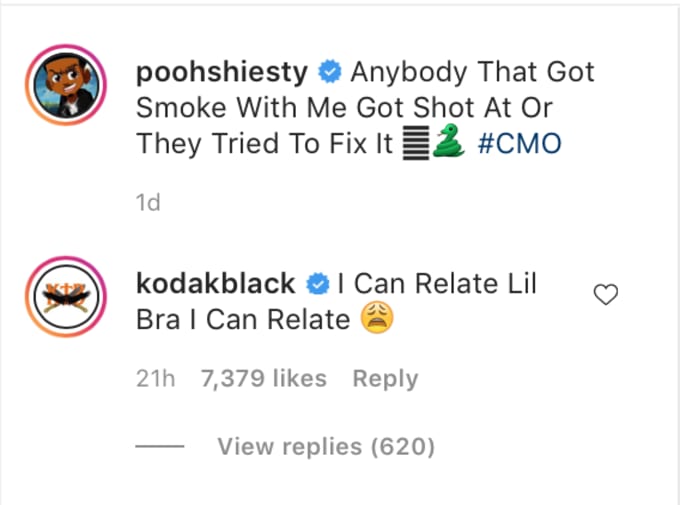 As pointed out by HotNewHipHop, Shiesty replied to a commenter asking if Kodak was trolling. "No that's bro," he wrote.

The comment seems to be Black's way of showing support for Shiesty after the two got into a heated internet exchange. Last month, Kodak Black wanted to reclaim some of the trends and styles that were taken from him while he was in jail. This prompted him to stake his claim as one of the rappers who helped popularize "spreading" money on the internet. While doing this, he used the "blurrd" ad-lib that was made famous by Pooh Shiesty. As a result, Shiesty assumed that the video was a diss towards him.
After a series of deleted posts taking aim at each other, Kodak took it upon himself to douse the fire. 
"Before y'all think a nigga being petty, I don't give a fuck about none of this shit, man," Kodak explained. "I ain't married to none of these anthems. This shit ain't about nothing. I'm really just putting this shot out there. Y'all let me have my shit, man. Y'all know y'all fucked up about me. Y'all know I'm a big influence to you niggas. Y'all like putting the respect on my shit."