 Brooklyn rapper and G.O.O.D. Music signee Desiigner burst onto the scene due to the massive success of his hit track, "Panda," which currently sits at No. 5 on the Billboard Hot 100 chart and shows no signs of slowing down. Even with the success, Desiigner has encountered a ton of criticism on social media, mostly because of the many comparisons between him and Future and their similar styles. There's also the fact that when Desiigner performs, he goes so far over the top in almost every way imaginable.
Whenever a new clip of Desiigner performing hits Twitter, it's literally a war zone with people reacting to his outrageous dancing or that he really only has one song to perform at the moment. Still, the young MC keeps chugging along with every performance like it's his last, though it's doubtful the Internet will go easy on him anytime soon. Relive some of the wildest moments from Desiigner performing "Panda" over the last few months below. 
The girl next to him is so confused.
He picked up a disabled crew member and put him on his back during a performance.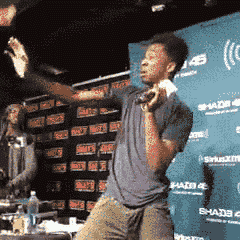 Not even throwing up can stop Desiigner from getting his "Panda" on. 
The zombie dance is kinda lit.