On Tuesday night, G.O.O.D. Music's Desiigner released his long-awaited video for "Panda," and social media had a ton to say about it. In the video, Desiigner finds himself robbing a car from the plug, and then escaping the scene with Kanye West, who ends up doing donuts while the energetic song plays throughout the clip. All in all, the video serves its purpose for the song, which has already spent time at No. 1 on the Billboard Hot 100 chart.
Of course, one major question remains: where are the freaking pandas? Not one actual panda in the "Panda" video feels seems like a loss here, and even though Desiigner isn't rapping about the insanely cute animal on the song, this feels like a missed opportunity. Despite the serious nature of the video, one or two actual pandas would have really put this video over the top and helped the record continue its reign as the runaway song of the summer. And yet, not one panda, but instead people wearing panda makeup. That isn't the same thing and just isn't acceptable. We need more pandas.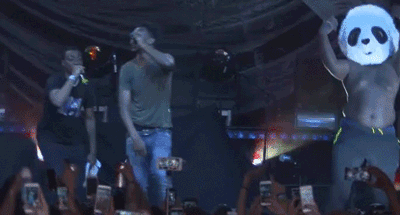 Of course, Twitter brought this up as soon as the video came out, and most people were just as confused by the lack of pandas in the "Panda" video. So again, while the "Panda" video will serve its purpose for the song, it's really a shame that we didn't get some actual, high-quality panda content here. You can watch the video for yourself above, and peep Twitter's reaction below.