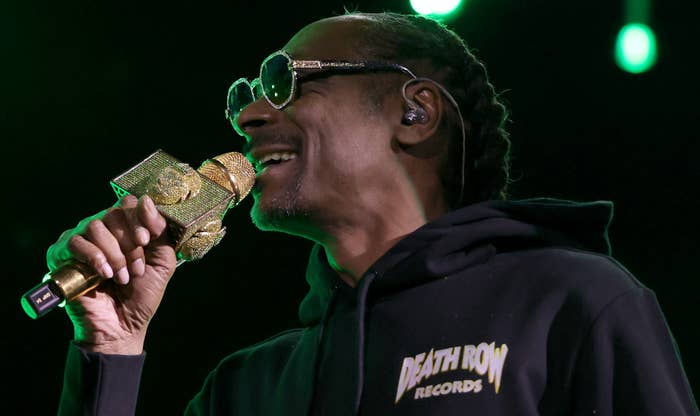 A little over a year after Snoop Dogg secured ownership of Death Row Records, many of its albums are back on streaming services.
"Yessir. Heard you. Death Row Records catalog is back streaming everywhere tonight," Snoop tweeted on Thursday evening.
The 51-year-old teamed with former Apple global creative director Larry Jackson and his new billion-dollar-funded media company Gamma. Billboard reports the recently formed brand "quietly acquired a stake in the Death Row Records catalog" from Snoop in December. It's described as a "long-term partnership" which will include two forthcoming Snoop LPs and eventually see the rights revert back to him after "we work together to enrich the value of the IP," Jackson said.
The Doggfather made the decision to pull Death Row projects from streaming shortly after taking over. He told Drink Champs last April, "First thing I did was snatch all the music off those platforms traditionally known to people, because those platforms don't pay. And those platforms get millions of millions of streams, and nobody gets paid other than the record labels. So what I wanted to do is snatch my music off, create a platform similar to Amazon, Netflix, Hulu. It'll be a Death Row app, and the music, in the meantime, will live in the metaverse."
Death Row was founded in 1991 by Dr. Dre, Suge Knight, The D.O.C., and Dick Griffey. Upon acquiring it from MNRK Music Group in February 2022, Snoop said, "I am thrilled and appreciative of the opportunity to acquire the iconic and culturally significant Death Row Records brand, which has immense untapped future value. It feels good to have ownership of the label I was part of at the beginning of my career and as one of the founding members. This is an extremely meaningful moment for me."
Now-streamable Death Row joints include Dr. Dre's The Chronic (1992), Snoop's Doggystyle ('93), The Doggfather ('96), and Da Game Is to Be Sold, Not to Be Told (98), 2Pac's 2Pacalypse Now ('91) and All Eyez on Me ('96), Lady of Rage's Necessary Roughness ('97), Kurupt's Against the Grain (2005), and compilations including Death Row Greatest Hits ('96).
You can stream the latter below via Spotify, and all the aforementioned albums and many more on the streaming service of your choice.