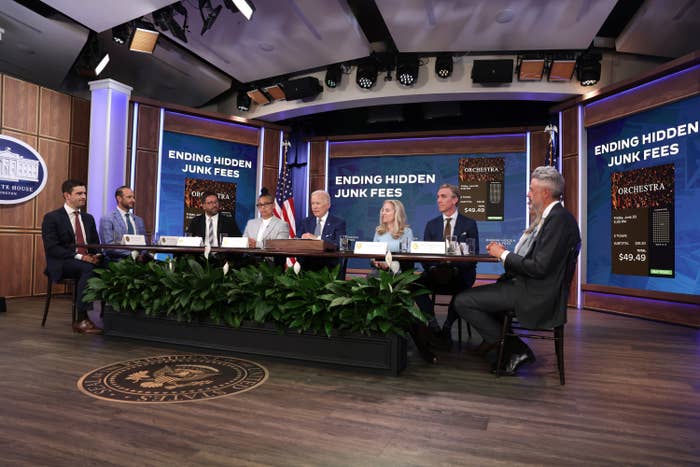 After years of scrutiny, Live Nation and its subsidiary Ticketmaster are among a series of companies committing to be more transparent about hidden fees. The practice of "all-in pricing" will show prospective buyers up front exactly what the final total will be, rather than surprising them en route to checkout.
President Joe Biden held a roundtable on Thursday at the White House to address eliminating "junk fees," with various companies in attendance including SeatGeek, TickPick, and others unrelated to event ticketing, like Airbnb.
A White House statement reads, "Today, Live Nation is committing to roll out an upfront all-in pricing experience in September showing just one clear, total price for more than 30 million fans who attend shows at the more than 200 Live Nation-owned venues and festivals across the country. Ticketmaster will also add a feature to give consumers the option to receive all-in upfront pricing for all other tickets sold on the platform."
Biden himself called it "a win for consumers in my view, and proof that our crackdown on junk fees has real momentum." He's previously encouraged Congress to pass legislation known as the Junk Fee Protection Act, though that hasn't come to fruition.
Rolling Stone points out that ticketing companies "have supported all-in pricing policies in the past, but only if mandated by law."
The president characterized the insidious and widespread practice on Thursday by saying, "These hidden charges that companies sneak into your bill make you pay more without you really knowing it initially. Junk fees are not a matter for the wealthy very much but they're a matter for working folks like the homes I grew up in."
Issues surrounding tickets for Taylor Swift's Eras Tour and Beyoncé's Renaissance Tour both caught the eye of the U.S. Senate this year, with the former leading to an official hearing, and the latter yielding a succinct warning to Ticketmaster: "We're watching."