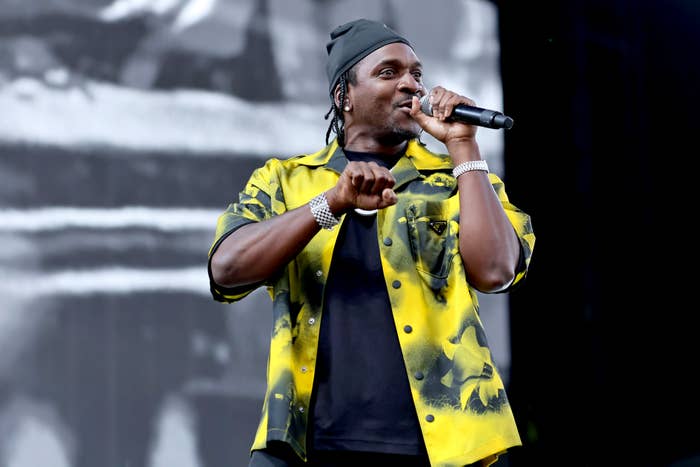 Back in March, Pusha T unveiled a surprising collaboration. The coke rap king teamed up with Arby's to take a shot at McDonald's, inspired by Pusha's disconnect with The Golden Arches back in '03. At the time, he and his brother Malice wrote the now instantly recognizable "I'm lovin' it" line, but didn't profit from the song outside of his initial contribution. 
It was one of many instances in which a big corporation takes advantage of a worker, yet Pusha holds no grudges: "It wasn't the best business for me, but we did business," he explains to Complex. Pusha moved on, but he fired at McDonald's on his first partnership with Arby's, titled "Spicy Fish Diss Track," and he learned his lesson: Pusha owns 40% of the one minute and 15 second song, and gets paid every time Arby's fires off a bomb in the direction of the Golden Arches. The track reportedly "netted the roast beef giant more than $8 million equivalent in advertising exposure. The estimate was shared just a day after the record's premiere." 
Now, King Push is back for more. First, they took a jab at the Filet-O-Fish and now, rap's most unexpected collaborators are coming for the next of the McRib with "Rib Roast," a song which also features bull rider Ezekiel "Blue" Mitchell and includes an exclusive merch line. 
The dusty Texas vibes on "Rib Roast"—which Pusha calls his "old route" on the track—are heavy with guitar lick sings and the twang of a Willie Nelson deep cut. To celebrate the latest link up between Pusha T and the pushers of sandwiches, Complex caught up with the Virginia Beach-raised artist on Friday, shortly before his second It's Almost Dry Tour stop in Norfolk, Virginia, just 20 minutes from where he grew up. The show was extra special for him, he shares, since it served as a reminder of the people that helped inspire the project the tour is named after. "They understand where Brambleton Avenue is. They know the different trials and tribulations that are discussed on the album," he says. "Virginia, man… it just holds a very special place in my heart." 
Push was in a celebratory mood when we spoke, and thrilled to discuss why Arby's is a perfect match for his work ethic, his link-up with Kanye West and others for forthcoming music, and the relevance of It's Almost Dry.
The interview, lightly condensed and edited for clarity purposes, is below. 
This is your second run for the It's Almost Dry tour. Have there been any songs that people are reacting to more strongly than you expected?
Watching the world react to Brambleton has been surreal. It's a very personal song, but people really honed in and really tuned in to that record. I know there's not a Brambleton Avenue in every city all over the world, but they act like there is.
Let's talk Arby's…You didn't have to send the McRib into early retirement as hard as you did on this track.
We had to, man [laughs].
What made you decide to come back a second time and do this?
The business relationship between Arby's and me is really strong because we're both just very passionate and very committed to the quality that we put out. That's what I've noticed, synonymously, myself and my music, and with them it's the food and the product and just making everything connect and making the storylines connect. They have a different level of commitment and focus that I've never seen in working with another brand. Any time they bring up these activations and these ideas, I'm always open for a listen because they are very, very meticulous about what it is that they do.
When people hear about a corporation teaming up with an artist, it can be half assed. Why do you think your relationship with Arby's works so well?
They were committed to making sure that I was comfortable the whole way. I mean, they know exactly what you know. These things don't work a lot. They don't. And they don't work a lot unless the synergy is organic.
You wouldn't have done this if you didn't think it could succeed, but were you surprised with just how well the first one did?
I wasn't really surprised because it made full circle sense. Anytime you have a story that people can refer back to, when you can make those links and make those connections, it makes everything just way more interesting. It's watching a documentary on something that's happening in culture, but you can go back and see the backstory, see the origins, see where these people connected from the beginning and why it ends up here. I was surprised by seeing the reaction in person, though. I would drive by Arby's and I would see lines. You know me, I'm going to pull up just to touch the market. People were like, 'Oh, my God. I'm here because of you. Are you kidding me? What are you doing? What are you doing here?' I had to check it out!
It must be a little sweet on top of everything that it's at the expense of McDonald's who didn't necessarily do right by you the first time around.
I've always said that they were handling their business, and that's the way they did it. And that's fine. It wasn't the best business for me, but we did business. And now I'm doing this.
You could have so easily phoned in your verse with Arby's and cashed in your check and moved on. It's gonna end up being a lasting part of your story and it didn't need to be.
It didn't, but I think that's the thing about where I am in my career right now. I don't think anything needs to be phoned in. And at the same time, I don't think I need to do anything that needs to be phoned in, or that I feel like I should phone in. I want to check all of these boxes. This race that I'm running right now is honestly to try to see how far the sub genre of street hip hop can go. I love the fact that I'm in business with Arby's. We can show how far creativity stretches. We can show how far the talent level for street hip hop can go and how it can bleed into different arenas and genres and businesses and everything else. I don't want to phone anything in at this point. IfI can't execute it with something that's going to be beneficial to the sub genre, then it's not something I want to do.
You've been teasing new music. Can you share any details?
I'm just working on some super special projects, man. Everyone I'm working with is feeling very competitive, trying not to be outdone. That just makes my job harder because I'm trying to outdo producers who are also great artists who are also great rappers and composers. That makes my battle twice as hard. But it makes for the best rap music. 
Even with your team, it's a competition every step of the way.
They keep giving him damn near verse of the year for what MALICE did on my album. And I'm like, 'Damn. You guys act like I wasn't on 12 songs myself.'
Has any of the new music been with Kanye?
It's definitely been with Ye. It's definitely been with Pharrell. I'm going to tell you something. I've also been working with No I.D.
For now, watch the exclusive premiere of "Rib Roast" below: