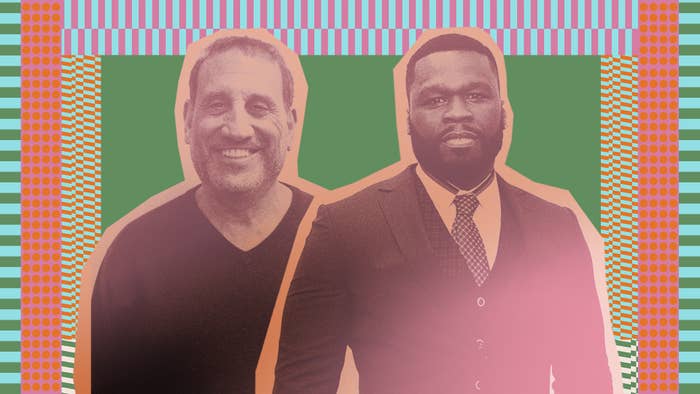 50 Cent is often considered to be one of hip-hop's most well-off. He's made millions outside of music—from signing a five-year endorsement deal with Reebok in 2003, to launching his own film and book companies throughout the 2000s, to partnering with Glaceau and making an estimated $100 million when Vitamin Water sold to Coke in 2007. He's managed to continue to generate the kind of financial footprint that comes from having a solid foundation of knowledge that dictates each of his business decisions.
A man who has had a hand in 50 Cent's smart financial decision-making is Bruce Seckendorf, who served as the rapper's former business manager for about 10 years. Born in Jamaica Queens, New York, Seckdondorf founded LL Business Management, and has spent decades working with some of hip-hop's biggest stars, including Eminem and Timbaland, to help make them more financially viable. By sticking to a principle that includes advising against impulse buys, Seckendorf has built a reputation for great moves and even better results. 
As part of Complex's Get Money initiative, we spoke with Seckendorf about his career, with the hopes of gleaning useful financial advice for our readers. And he was happy to share some wisdom he's picked up throughout his years as a successful business manager.
"I tell people, 'Just believe in yourself, and bet on yourself,'" Seckendorf says, relaying advice for young entrepreneurs. "If you're going to spend money, spend it on your company, spend it on yourself and your career. Don't be looking to invest in somebody else's business and watch them try to make money. Focus on yourself."
Here's Seckendorf on working with 50 Cent, what he thinks about cryptocurrency and his advice to aspiring musicians, below.
How did you start working with hip-hop artists?

I met a pretty well-known entertainment attorney at a barbecue many years ago. He asked me to set up a business management company for some clients that he was managing. From there, I set up a little business management company [Seckdondorf founded LL Business Management] in 1994, and the rest is history. They were my first clients, and I just pursued and networked and built it up to where we are today.
How did you meet 50 Cent?

Those original guys, my original clients, one of them got a job up at Sony when 50 got his first record deal, and he connected me to 50. 50 was in Queens. My office was 10 minutes from where he lived in Jamaica, and 50 came to see me. I did a very small tax return for him. I forgot how much he made. It wasn't very much money. I'll just throw out a number, like, I don't know, $50-75,000. It was the first tax return I ever did for him. And I was like, "You don't owe me anything. Just when you get big, come back and see me next year when the album comes out. Let's talk." He's like, "I'll be back."
And then, unfortunately, I think that was around the time that he got shot. He disappeared. He was out in the Poconos for a while, and then he came back and was a man of his word. He sold 5 million records and came back to see me. I was with him for about 10 years, and same with G-Unit. I can never say anything bad about 50. He's a really good guy, a smart businessman, a class act in every way.
In those early days, did he have an understanding of what it took to be successful with his money early on? Or was that something that you had to teach him going forward?

No, no. A hundred percent. I mean, not highly educated, but street smart and highly intelligent. One of those guys that, in my opinion, had he gone—and he probably could have gotten into an Ivy league school and learned finance—he would have been brilliant at it. Very good with his money. Look, nobody makes one hundred percent perfect decisions, yours truly included. But [he is] a smart, very smart businessman. Very good with his money. I can't comment on when we stopped working together. He did start taking advice from some, I don't know, some people that I don't have too much respect for. And for whatever reason, he chose to follow those advisers. I don't know that he ever got himself into major trouble, but a lot of that unraveling took place after he left me.
Let's get into some practical financial literacy topics for our readers. What practical financial advice do you have for our readers at this very moment?

If I'm working with professional athletes, which I do, I usually advise them to try to put away half of every paycheck at a minimum. At the end of their career, they'll have a whole pile of cash. In the world we're living in right now with inflation and what's going on politically and in this country, I mean, if you've got somebody making $60 or $70K, which is probably above average anyway, I don't really know how much you could invest in and do. You're living hand to mouth, unfortunately. If you're young, put away some money for the future. 401k plan, if your company offers it. IRA accounts are good.
If you're very young, I'm not really big on putting too much away into retirement accounts, just because life's expensive. If you're in your twenties, and you're not married yet, and you're going to have kids and a family, and having to pay for college and whatnot, you don't want too much money tied up for retirement because you can't really access it. It's a balancing act. 
Everyone's into cryptocurrency nowadays. What's your opinion on that?

I don't touch cryptocurrency. But, again, that's a personal thing. It's too volatile. I mean, I saw it's up $2,000 today, so it was $32,000. I follow it. I follow the stock market. I have CNBC on all day long. I think you spread your money around. Don't put all your eggs in one basket, would be what I would do. Buy a partial Bitcoin, buy the different currency. I think young people have a tendency to… They see something hot, they jump into Bitcoin when it's running up to $65,000, and as they now see, it's less than half of that from what it was maybe six weeks ago. Spread your money around. Don't put all your eggs in one basket. That's what I would tell a young person. 
What do you tell your musician clients who are really into crypto? 

I don't talk them off of it. It's more about the limitation, as I said. I mean, you don't put all your eggs into crypto. It's just too volatile. I'm not going to look back if it goes to… What was it this morning? 32. Goes from 32 to a hundred. All right. Listen, I sold Facebook at, I think, 17. It's 342 or something now. 



"If you're going to spend money, spend it on your company, spend it on yourself and your career. Don't be looking to invest in somebody else's business and watch them try to make money. Focus on yourself."
For our entrepreneurial readers, what advice do you have for them financially, right now?

"Bet on yourself" is my favorite thing. That's something I always tell my clients. People want them to invest in different things. If your readers are business people—you said entrepreneurs—I did it in my business, and I just tell people, "Just believe in yourself, and bet on yourself." If you're going to spend money, spend it on your company, spend it on yourself and your career. Don't be looking to invest in somebody else's business and watch them try to make money. Focus on yourself.
What financial advice do you have for aspiring artists now, and for when they start to make real money?

I think when you start to really make real money is when you need to get yourself a solid CPA or financial planner or a financial advisor. Doesn't necessarily have to be a name brand financial advisor. Yours truly is with Morgan Stanley, primarily. I also don't believe in putting all your eggs in one basket, but we're talking about money. Again, back to your guy, 50 Cent, when I was working with him, we had three separate financial advisors. And you create one point guy so there's no overlapping of investments. With people that are starting to make real money, becoming successful, start out with one really good one. Once you get to a threshold and that threshold could be a million or two, find a second guy, and then a third. 
The other thing I would tell you to do early on, if you're making money, is make sure you've got your financial affairs in place. Meaning, first and foremost, make sure you have a will. I've seen some young guys pass without a will, which creates all kinds of problems. And if you've got a young family, and you're a young person, I would definitely think in terms of getting some life insurance. Maybe a partial whole life insurance, something permanent, and some term insurance. While you're young, that still works. It's inexpensive, and you can get a fair amount of insurance. You need the whole life, you need the permanent. 
As you get older, you want to keep that policy in place. But to that point, as you get older, and you live longer, and the kids are out of the house, and they're on their own, and they're married with their own jobs and families, you don't really need as much money to leave them. You know what I mean? It's a balancing act, but you've got to have a good financial planner.
How is it working with hip-hop artists compared with your other clients?

No different. You know, we handle every type of music, from rock and pop to rap and hip-hop, so it's just different upbringings and different desires and wants and needs. It's not that much different. You have some hip-hop artists that I've worked with that are really good at putting money away for the future, and others that burn through their money. But you're going to see that in the rock world, and you're going to see that in the pop world, so I don't think it's by genre. I think it's just that's who they are.
I don't think it's by genre. I think it's by person. It's like the world we live in, everybody wants to put you in a box, and classify you by the color of your skin or your religion or where you're from. I don't think you can put those that burn through their money in a hip-hop box. They're just more notorious because that's what people want to see and hear. And I think, as a genre of music, they're a little bit more flashy. 
Look, I'm not going to mention specifics. I was with one very well-known rap artist who had his Lamborghini in his driveway, and the whole thing. And he said to me once, he goes, "I wish I didn't have to spend $300,000 on a car. I just need this to show people." It's an image thing. And with a lot of guys, it's image more than just wanting to burn through the money just for the hell of it. I think that the music itself brings these rappers to the light of wanting to be flashy. That's all.
Without any specifics, what would you say is the wildest thing that you've seen as a financial advisor for a musician?

I don't know where to begin with that one. I mean, it goes anywhere from private jets, insane investments in tech companies, film companies, investing in films. That's just never a good idea, in my opinion. Obviously, there's the overpriced jewelry, going in and spending a quarter million dollars on a watch when you have maybe $700,000 to your name. It makes sense not to mention that you didn't even get the watch appraised, and you're dropping a quarter million. I mean, things of that nature.
Who would you say from the outside looking in, has a really good hold on their financial literacy, as far as rappers go?

Somebody I work with who I have respect for—he's been a client of mine for over 20 years—is Timbaland. He's got a handle on it. Solid guy, solid human being, smart. Smarter than I think people would give him credit for. Innately intelligent. He's real good.
One of my ex-clients that I don't work with anymore, but through the grapevine, we all kind of know what's going on, I would say is Eminem. I think he's been incredibly sound and smart with his investments and his strategies. And I would credit his manager, Paul Rosenberg. They're no longer my clients, but I have no enemies that I'm aware of.