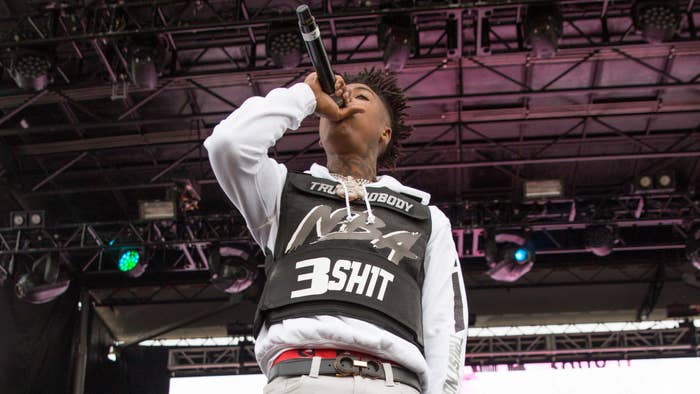 Attorneys for YoungBoy Never Broke Again, who was arrested in March of this year after the government obtained a federal indictment on weapons charges, have requested that their client be granted pre-trial release.
In court documents obtained by Complex, dated June 7, the "White Teeth" artist's legal team noted that an arrest warrant was issued on Mar. 10 of this year while their client—whose real name is Kentrell Gaulden—was on a state bond for the same alleged conduct.
According to the attorneys, they were blindsided by what they described as the "inexplicable tactical decision by the government." Per YoungBoy's legal team, federal officials in Baton Rouge contacted authorities in Los Angeles to orchestrate his arrest instead of—as they argue would have been more appropriate—reaching out to them about arranging a voluntary surrender.
Also revealed in the filing for a pre-trial release is that, according to YoungBoy's lawyers, the title of the aforementioned operation was "NEVER FREE AGAIN." In another document viewed by Complex, specifically an FBI Digital Evidence Laboratory process report, the operation is also referred to as "OPERATION NEVER FREE AGAIN."
"This massive and wildly unnecessary militaristic display of force and intimidation to arrest an individual for a status offense, who was already on bond for the same charges at the state level and represented by counsel, for a highly visible and public figure who has no prior history of fleeing law enforcement, created a dangerous situation for everyone involved when law enforcement could have simply contacted Mr. Gaulden's counsel and arranged for a voluntary surrender," attorneys from Manasseh, Gill, Knipe, & Belanger P.L.C. and Drew Findling of the Findling Law Firm P.C. said in the pre-trial release request.
Attorneys also pointed out that the seized firearms hadn't been used in "any illegal manner." Furthermore, both firearms alleged to have been possessed by YoungBoy were claimed by others who were detained by law enforcement officials.
In April, U.S. District Judge Shelly D. Dick ordered YoungBoy to remain detained pending trial. That same month, YoungBoy pleaded not guilty to federal weapons charges.
In May, YoungBoy released a video for his latest single "White Teeth." He was also recruited alongside Rod Wave for Kawhi Leonard's "Everything Different."