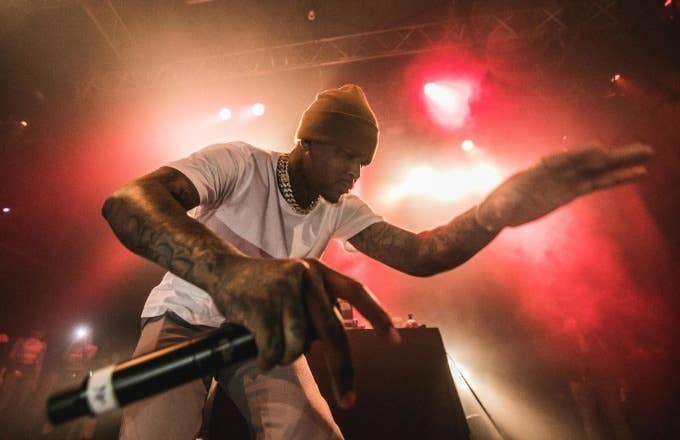 If you hit up a YG show without the deeply rooted desire to shout the words to "FDT" as loud as humanly possible, then an inquiry from the artist himself is to be expected.
That's exactly what went down at a recent YG tour stop at the Marquee Theatre in Tempe, Arizona. In fan-captured footage of the moments after YG's performance of the "Fuck Donald Trump!" refrain-strengthened 2016 single, the 4Hunnid founder can be seen pointing out a non-singing attendee.
"You didn't sing not one fuckin' lyric," YG said during the March 6 show. "I was watching you. You didn't say that shit at all. Then I asked you what your nationality is, you said you white. Then I was like 'Oh, OK. It makes sense.'"
Noting that the attendee in question was wearing some 4Hunnid apparel, YG said he "didn't want to" call the person out. "But I'm a real n***a," he said.
Ultimately, however, the singalong non-participator was able to clarify that their silence during "FDT" had no deeper meaning. "I walked up and I looked dead in your face and you wasn't singing no lyrics," YG said. "So I'm like, 'OK, I got something for that person.' So listen, I wanna ask you a question. Is you with Donald Trump or no?"
From there, YG got the concertgoer in question to redeem themselves by shouting "Fuck Donald Trump!"—which should honestly be everyone's mantra at this point—with middle fingers up:
Anyway, brush up on your "FDT" lyrics. We could all use a singalong to that chorus at any given moment during any given day.