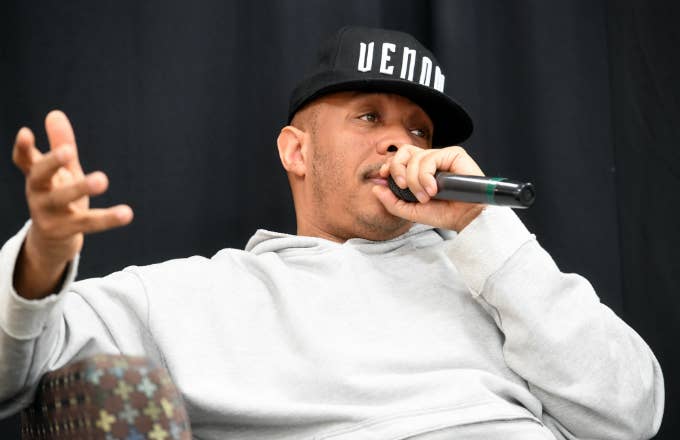 U-God is opening up about how he believes RZA turned the Wu-Tang Clan into a dictatorship.
"Masta finally got his solo album No Said Date released in 2004, Deck dropped the Movement in 2006, and I released Dopium in 2009," U-God wrote in an excerpt from his new book Raw: My Journey Into the Wu-Tang, published by Rolling Stone Tuesday. "All of these were critically acclaimed, but didn't have the big budgets our brothers received via their major labels. I think one thing that hurt those releases is that we could never perform any new material at our Wu-Tang shows. That's something I never understood."
Eventually, U-God said, the Wu-Tang ethos of "one for all and all for one" had been set aside for something else entirely. "Now that the days of gold and platinum plaques had dried up, dudes started fighting over the W," he said. "The whole foundation that we were built on and that made us powerful fell apart. We weren't building anymore; we were destroying ourselves."
Though U-God insisted that he and the Clan can "typically work things out," he made a point to note RZA's apparent hesitance to get the group placed at a top-tier talent agency. He also further detailed RZA's alleged dictatorial vibes, explaining that the group always needed order but not "from the top down" only. "It takes a certain kind of personality to be able to run the ship but still be open to ideas and collaboration," he said.
Trying to retain total creative control over the group inspired problems, mostly due—according to U-God, anyway—to RZA forgetting to build his soldiers up instead of tearing them down. Back in November 2016, U-God sued the Clan for unpaid royalties.
The Wu has recently been all over headlines of a different variety thanks to Martin Shkreli. Earlier this month, the 35-year-old was ordered to forfeit his lone copy of Once Upon a Time in Shaolin before later being sentenced to prison for fraud.