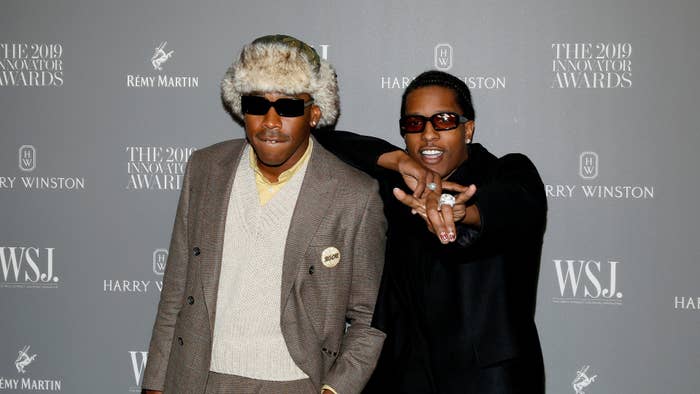 For creatives, the era of social distancing has presented the uniquely focused opportunity of honing in on new work without the usual litany of distractions. Naturally, this atmosphere has now resulted in some Instagram Live footage of Tyler, the Creator and ASAP Rocky that's equal parts hilarious as f*ck and inspiring as f*ck.
The IG Live sees Tyler and Rocky jesting in their usual fashion about the clothing choices of each, with Rocky quickly coming to the conclusion that Tyler was "already trolling" a mere one minute into their conversation. Tyler, meanwhile, expressed he was "lonely" whilst in social distancing mode.
From there, Rocky urged Tyler to give the people a taste of the "new sh*t" he's been working on recently. 
See a rip of the objectively hilarious IG Live session above, and a video Tyler shared from his recent writing sessions below:
Tyler is fresh off a Best Rap Album win at the most recent edition of the Grammy Awards, where he also performed "Earfquake" and "New Magic Wand" with some assistance by Boyz II Men and Charlie Wilson.
Anyway, while we're all stuck at home dodging health bullets, let's put this on a loop: