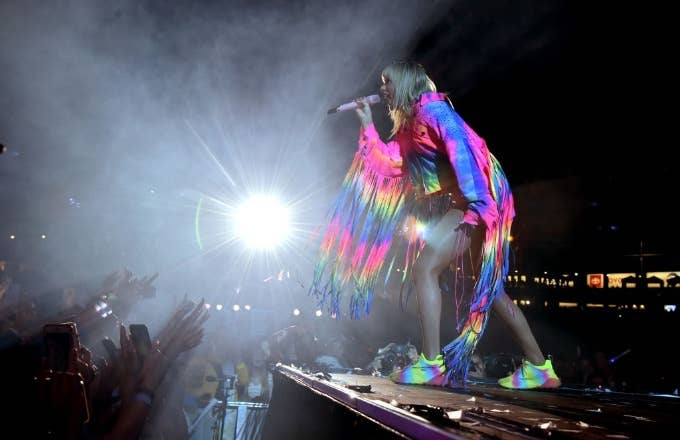 While Taylor Swift's Big Machine era technically came to a close back in late 2018 when it was announced that she had signed a new deal with Republic Records, a masters-related development over the weekend has that chapter of her career being viewed with fresh eyes.
As your timeline has surely informed you by now, it was announced in the final hours of June that high-profile manager and general music industry figure Scooter Braun's holding company Ithaca Ventures had purchased Big Machine Label Group for over $300 million. The news was met with an extended Tumblr note from Taylor, whose back catalog is part of the deal, in which she linked the move to what she characterizes as a years-long campaign of unfair treatment that's included bullying from an assortment of Scooter clients.
Despite the simplicity of the only answer that matters with regards to the "Who should own an artist's masters?" inquiry, further updates on both sides of this issue haven't exactly made it easy for those keeping up on the sidelines.
In that spirit, we've broken down several key facets of the Taylor/Big Machine back-and-forth below.
Taylor criticized Scooter and clients like Bieber and Kanye for what she described as an orchestrated bullying campaign, prompting a half-apology from Bieber.
"All I could think about was the incessant, manipulative bullying I've received at [Scooter's] hands for years," Swift wrote in a Tumblr update this weekend.
From there, she referenced the notorious "illegally recorded" phone call excerpt from Kim Kardashian and Kanye West's equally notorious video depicting a nude version of her, both key "Famous" factors.
"Essentially, my musical legacy is about to lie in the hands of someone who tried to dismantle it," Taylor said.
While Bieber's Instagrammed response to the blog post opened with an admission that a previous Instagram post mid-"Famous" era in which he screengrabbed a FaceTime conversation with Ye and Scooter was "distasteful and insensitive," he then proceeded to question why Swift commented on the Big Machine acquisition at all.
In fact, Taylor said, Big Machine's Scott Borchetta was aware of her feelings about Scooter. Borchetta later disputed aspects of this account.
"Any time Scott Borchetta has heard the words 'Scooter Braun' escape my lips, it was when I was either crying or trying not to," Taylor said over the weekend, saying both men knew exactly what they were doing, which from her assessment is the calculated controlling of "a woman who didn't want to be associated with them."
Scott then took to the official Big Machine site to share alleged screenshots of a proposed resigning deal Taylor declined in 2018, claiming he "never experienced" any tearful comments about Scooter from Taylor. According to Scott, Scooter has never been "anything but positive" with regards to Taylor.
"Scooter has always been and will continue to be a supporter and honest custodian for Taylor and her music," Scott said. He also shared alleged text message excerpts.
Word of the Scooter deal, per Taylor, hit her network around the same time as it hit the world news cycle.
Taylor said she learned of the masters purchase "as it was announced," noting she considers this move the "worst case scenario" for her back catalog. Fuck Cancer founder Yael Cohen, who's married to Scooter, echoed Scott's claims that Taylor had been notified prior to the announcement. According to Scott, a friendly warning text was sent the evening before the deal was set to be announced.
Scott and Yael also made similar claims about Taylor having had the chance to secure ownership of her masters, though the circumstances under which such ownership would have occurred weren't exactly favorable to the artist.
Taylor's only given option for previously obtaining the masters allegedly required signing a new deal with Big Machine.
Taylor said over the weekend that she's spent "years" attempting to buy her masters, only to realize more recently that an eventual proposal from Big Machine on this key aspect of her legacy would have prevented her from moving forward. While both sides of the Scooter deal debate have referenced the terms of this proposal, only Taylor pointed out the proposal's inherent catch-22.
"I had to make the excruciating choice to leave behind my past," Taylor said. "Music I wrote on my bedroom floor and videos I dreamed up and paid for from the money I earned playing in bars, then clubs, then arenas, then stadiums."
Taylor's father, Scott, is alleged to have been notified of the then-possible deal days earlier due to his status as a Big Machine Records LLC. shareholder. Reps for Taylor, however, said Scott wasn't on a subsequent shareholders call.
A call set for June 25, also referenced in Scott Borchetta's Big Machine website update, was—per Taylor reps—bound by a strict NDA. 
"Scott Swift is not on the board of directors and has never been," a rep toldPeople." On June 25, there was a shareholder phone call that Scott Swift did not participate in due to a very strict NDA that bound all shareholders and prohibited any discussion at all without risk of severe penalty."
Both Scott Borchetta and Yael Cohen, however, have offered a different assessment of Scott Swift's knowledge. 
Halsey, Miley Cyrus, and other artists are now lining up in support of Taylor.
In the ensuing hours, an increasing number of artists have made their feelings on this industry debacle publicly clear. In a tweeted note, for example, Halsey expressed her support as both a fan of Taylor's work and an artist herself.
"She deserves to own the painstaking labor of her heart," she said.
Miley, meanwhile, sent a message by way of a liked post and a timely unfollowing. She's notably not the only person who's apparently unfollowed Scooter in recent days. 
Cara Delevingne, Katy Perry, Danielle Haim, Todrick Hall, Iggy Azalea, Heidi Montag, and more have also shown Taylor public support. Fans are also on the case, uniting behind the #WeStandWithTaylor hashtag to keep the dialogue going.
A pack of fans went after Ed Sheeran for support, citing the thus-far-quiet English pop star's long history of friendship with/support from Taylor. Sheeran eventually yielded in a reply to a comment on Instagram, saying "I have been speaking directly to her, like I always do."