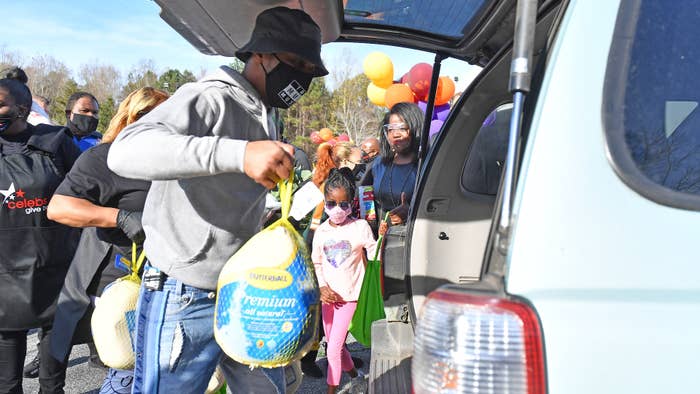 Thanksgiving, which has been socially reformed as a holiday acknowledgment due to the damages of deeply embedded revisionist history, brought with it a new set of difficulties this year due to the ongoing pandemic.
Still, plenty of creatives in a position to do so—T.I. and Lil Wayne among them—found ways to step up for the 2020 edition of the feast-centered day.
These acts of generosity are particularly commendable given the limitations facing those who wish to celebrate the day this year while (wisely) keeping safety in mind. Earlier this month, the CDC released new guidance cautioning against typical holiday travel and mass gatherings. Mass gatherings, of course, have been discouraged by health officials for the majority of 2020. However, concerns have peaked again as we move further into the holiday season due to growing case numbers. 
Peep the CDC's Thanksgiving advisories here, and for more on the damaging history of the Thanksgiving myth, give this a read.
In the spirit of commending generosity, we've rounded up a few highlights from the early 2020 holiday season below.
T.I.'s Harris Community Works hosted the 15th Annual Turkey Giveaway this week, ultimately distributing more than 1,000 turkeys and various produce to pre-selected underserved families and senior citizens in the Westside community of Atlanta, Georgia. Due to the pandemic, the event saw changes this year including an outdoor setting and a drive-through pick-up option.
The event saw Harris Community Works—a subsidiary of the Us or Else Corp nonprofit charity—partnering with the City of Atlanta, Humana, Kroger, AKOO, Bankhead Seafood, and more.
On Monday, Marshawn Lynch helped hand out 200 free turkeys near the Aloha Stadium in Honolulu.
The effort marked a collaborative effort between Lynch's Fam 1st Family Foundation, Young's Fish Market, Tamura Super Market, Barefoot League Hawaii, and others. Also involved in handing out the turkeys was Chad Owens.
Snoop Dogg, who's known to regularly partner up with city officials for such giveaways, was on hand at the SoFi Stadium in Inglewood, California this week to help get free turkeys and trimmings to families in need. The event was set up as a drive-thru with a regional CBS outlet reporting that as many as 2,500 people lined up to receive a turkey.
For the Tunechi Turkey Give-A-Way, Weezy—alongside the Young Money Records team and LaRon Landry—took the generosity down to the artist's hometown of New Orleans. The giveaway used a sign-up page for distribution of the 500 turkeys. 
"The ideal goal and mission is to deliver to people that can't make it out to purchase the essentials needed to have a blessed Thanksgiving," a rep said earlier this week.
Earlier this week, French Montana came through for those in need in the Bronx, linking up with City Harvest to pass out free turkeys.
Speaking with News12 about the benefit, Montana said it gave him "great joy" to be a part of it.
For anyone who was unable to bag a turkey on Monday, organizers took down names and phone numbers to help with delivery at a later date.
Comedian Tracy Morgan popped up in at the Mott Haven Community Center in the Bronx this Tuesday to help give out 1,200 turkeys in partnership with the Greater New York Automobile Dealers Association.
After the Mott Haven event, per TMZ, Morgan also hit up two additional locations to help hand out turkeys.
Earlier this month, Anthony Anderson linked up with Mercedes-Benz and Feeding America to give back to the local Los Angeles community for the holiday.
Anderson showed up to participate in the turkey distribution as part of the Curbside Caring Initiative at the Los Angeles Regional Food Bank. 100 families were able to stop by and pick up turkeys and more while a Mercedes-Benz donation will allow the food bank to distribute an estimated 40,000 meals to others in the community.
Travis Scott's Cactus Jack Foundation hosted their inaugural Thanksgiving turkey drive on Wednesday.
Cactus Jack's own Don Toliver and Chase B helped distribute turkeys and meals to 1,000 families in the parking lot of Worthing High School in Sunnyside, Houston. Visitors were also provided access to free COVID-19 testing. Wanda Webster, La Flame's mother, was an honorary guest for the turkey benefit. Congresswoman Sheila Jackson Lee, Mayor Sylvester Turner, Kiotto Brown, Rep. Al Green, and Lil Flip were also in attendance.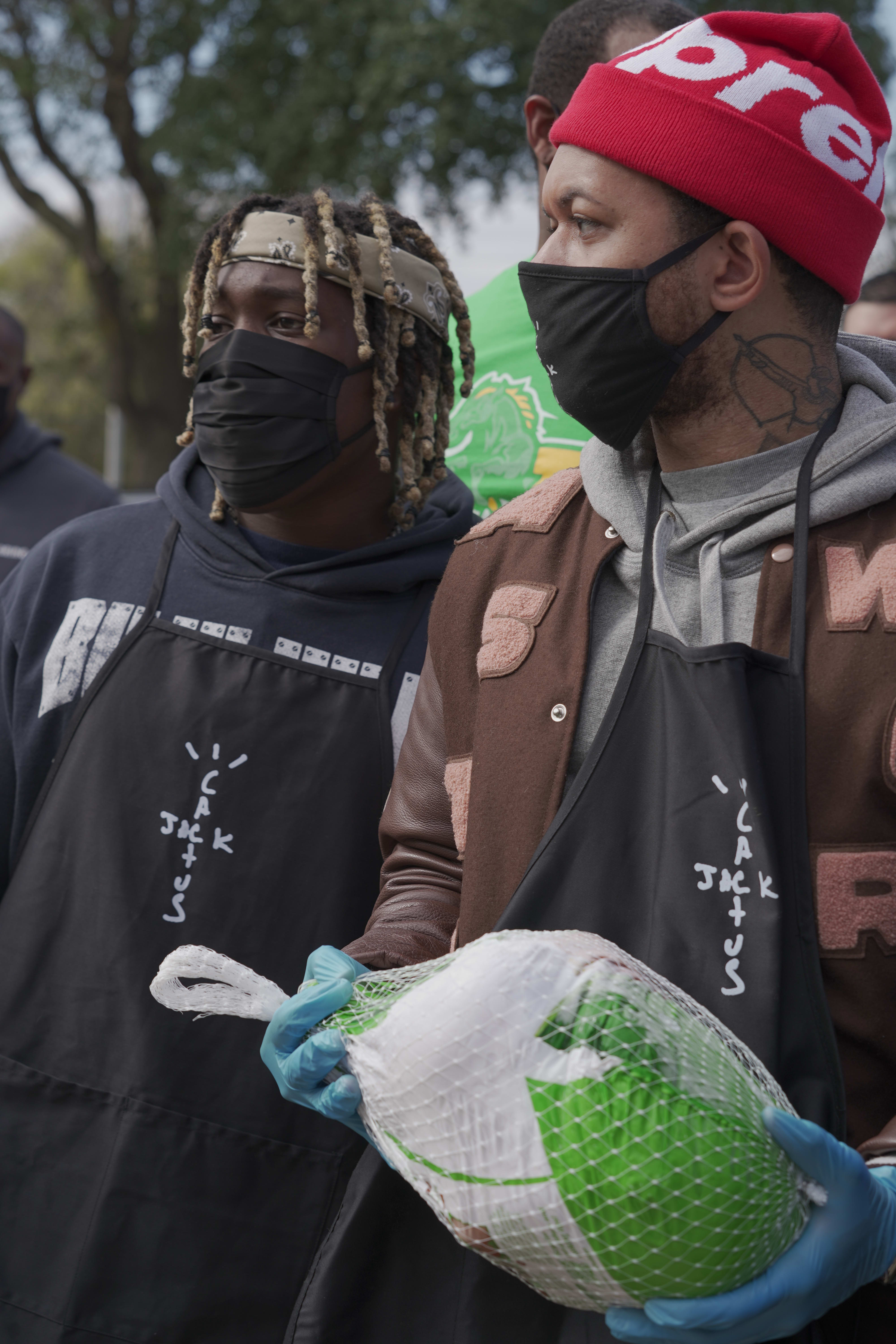 Slim Jxmmi of Rae Sremmurd brought it home to Tupelo, Mississippi.
Jxmmi helped provide food for more than 200 families in the area and was also awarded by local government with his own day.
Speaking with the Daily Journal about his second annual Thanksgiving turkey drive, Jxmmi explained the personal importance of making an effort to help those from his hometown.
"I love giving back to where I come from because I feel like it inspires others to chase their dreams or to reach their highest height and give back to their community," he said. "It makes everybody better."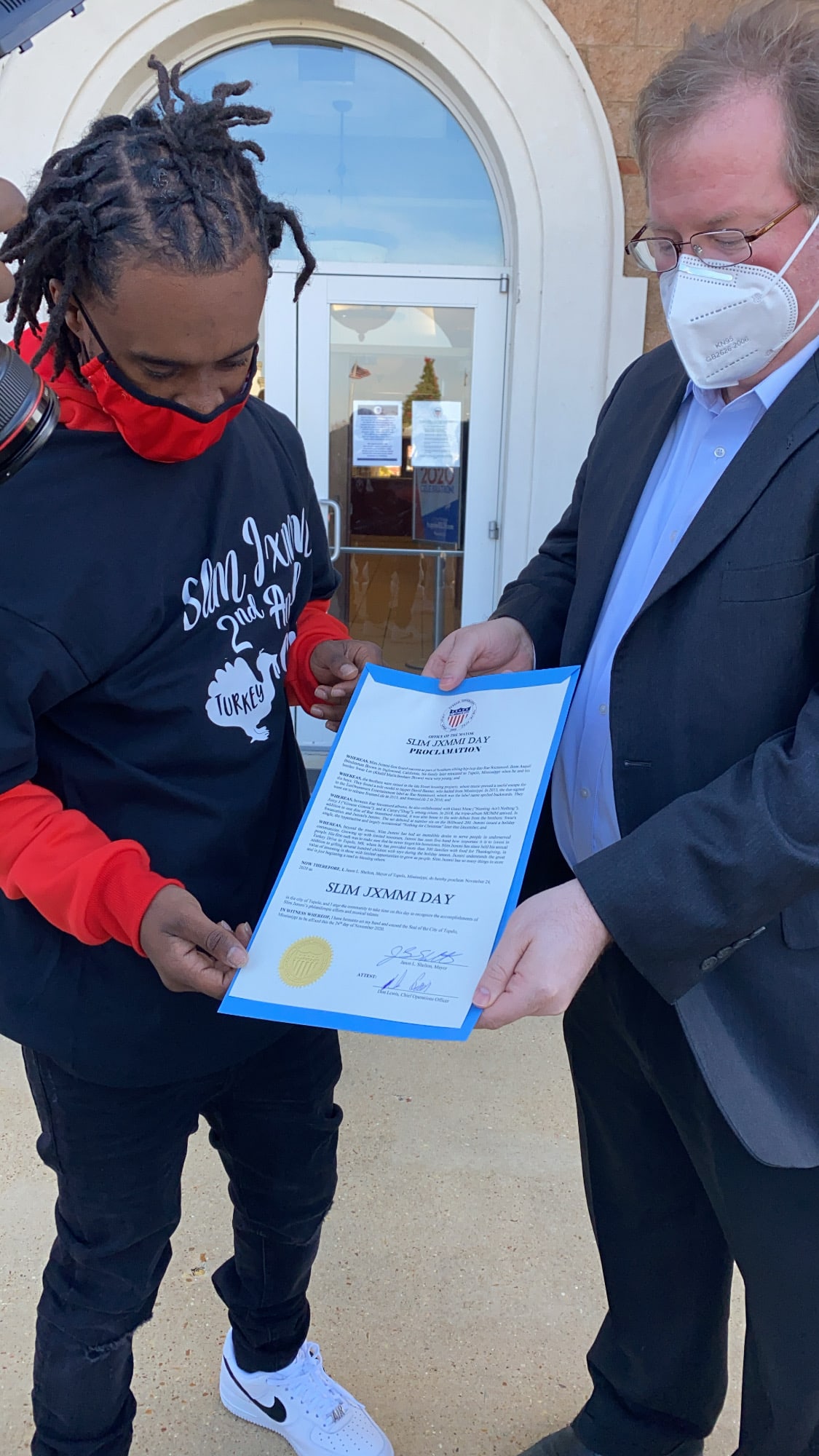 ASAP Rocky gave back to a New York homeless shelter where he and his mom stayed in the early 2000s.
TMZ reports that the rapper personally delivered 120 meals on Thanksgiving eve from one of his favorite Harlem restaurants, Amy Ruth's. He brought the meals to the Regent Family Residence, which is located on the upper west side, and aids 83 families, including 111 kids. The organization has been supplying affordable housing assistance since 1896.