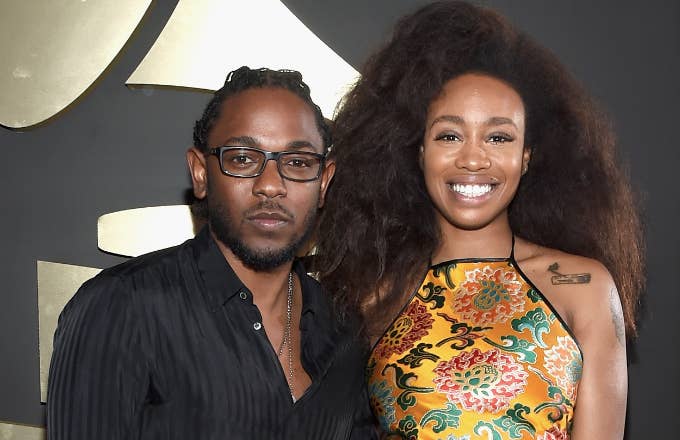 In a just world, Kendrick Lamar's Damn would walk away with the Album of the Year honor at next year's 60th Annual Grammy Awards. But do we live in a just world? Fuck no. We live in a world so egregiously fucked up that even The Chainsmokers could end up winning the night's big award.
In a "best new artist hopefuls"-themed interview with Billboard alongside Khalid and Julia Michaels, fellow Top Dawg artist SZA touted Damn as the obvious Album of the Year choice.
"I don't know Ed ­[Sheeran] personally, though I love him and his music," SZA said Thursday when asked who she'd root for between Sheeran and Lamar. "But I watched [Lamar's] process—he's a true, genuine genius. Dot doesn't play any instruments, but he designed and ­produced his whole album. From scratch. Like... it's too much. It's too incredible. I've never witnessed anyone do that, except for maybe Frank [Ocean]. It's past due. He's the most inspiring person I've ever met in my entire life."
After Khalid chimed in with his own thoughts on the importance of Damn in 2017 America, SZA continued, "He somehow manages to be an ­activist with a platinum album. It's very rare."
Thus far, Lamar has bagged seven Grammys over the course of his career. His first, in 2015, was for his To Pimp a Butterfly single "i." The album was nominated for Album of the Year, but ultimately lost to *clears throat, vomits, clears throat again* Taylor Swift's 1989.
Lamar himself considers Damn cut "Fear" to be his strongest work to date. "It's completely honest," Lamar toldi-D in a recent interview. "The first verse is everything that I feared from the time that I was seven years old. The second verse I was 17, in the third it's everything I feared when I was 27. These verses are completely honest."
If Damn doesn't get Album of the Year, I give up.