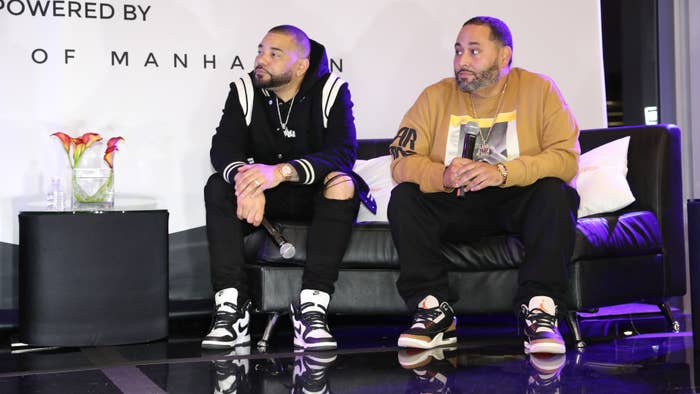 Cesar Pina, widely referred to as a business associate of DJ Envy, was arrested this week in connection with an alleged real estate scam.
The U.S. Attorney's Office of the District of New Jersey announced in a press release on Wednesday that Pina, described as a "New Jersey real estate investor and influencer," had been charged with wire fraud and released on bond.
"We allege Pina offered a ridiculously high rate of return to investors, then took the millions he got and invested it in himself," James E. Dennehy, FBI-Newark Special Agent in Charge, said. "History has proven time and again, Ponzi-schemes don't work. The pot of gold at the end of the rainbow eventually runs out. Investors take note – it's your money, don't let them steal it."
According to federal prosecutors, Pina "partnered with a celebrity disc jockey and radio personality" for real estate seminars that he ultimately parlayed into a sizable social media presence. In 2017, Pina allegedly started taking investments related to what victims thought was the buying and flipping of various real estate projects, routinely promising a return on such investments of as much as 45 percent in as little as five months.
Pina is facing a maximum sentence of 20 years if convicted as charged, as well as a hefty fine.
To be clear, DJ Envy has not been charged in this case. In fact, he was reported earlier this month to be asking for his name to be taken off several lawsuits in connection with the alleged scam. Furthermore, Envy himself says he also lost money.
"My attorneys don't want me to speak but I think there's things that I need to clear up a little bit," Envy said on The Breakfast Club last week. "So Cesar and myself did seminars. Now the reason I did these seminars is because I wanted to uplift my community. I wanted to teach my community about real estate, things that I didn't know when I was buying my first home."
As Envy pointed out, a number of "fake stories" had circulated making false claims about him regarding Pina's alleged actions.
"If he took money, I wasn't privy to it nor did I even know," Envy, who was recently mocked by Rick Ross over the case, added. "But I do understand how people feel if they did give him money because I gave him a lot of money that I didn't see a dollar of return. But for anybody to say I was involved, that's totally not true."