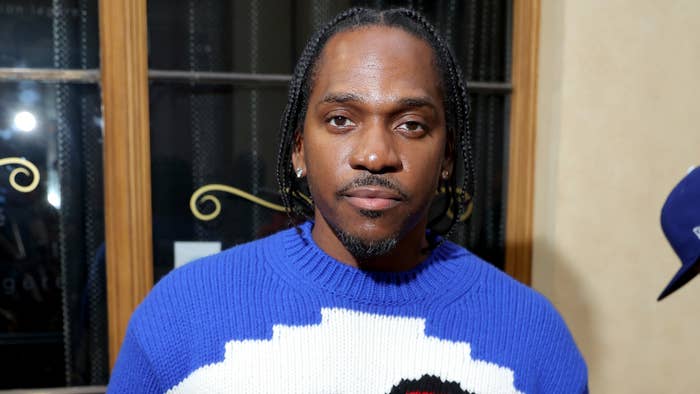 Pusha-T is still with G.O.O.D. Music, despite speculation surrounding a recent Instagram post.
This week, King Push—who has a new album arriving later this year that he's previously teased as "1,000 percent" topping Daytona—shared a photo showing a portion of a contract.
"Some people call you their brother, other people show you you're BROTHERS," Pusha said when sharing the images, adding in a "thanx" to Ye. The artist formerly known as Kanye West, notably, was referred to as "Yezos" in Pusha's caption, marking a play on the name of Amazon founder Jeff Bezos.
Speaking with Complex, Steven Victor—Pusha's manager, longtime music exec, and Victor Victor Worldwide CEO who recently alerted fans to the beginning of sessions for Ye's Donda sequel—clarified that Pusha-T is still with the Ye-founded G.O.O.D. Music. Additionally, Victor told Complex that Pusha-T owns his masters, thanks to Ye.
Pusha's upcoming new album, however, marks the fulfillment of his contract with Def Jam. Notably, Pusha's Grammy-nominated 2018 album Daytona was released through Def Jam and G.O.O.D. Music, as were previous releases including Darkest Before Dawn: The Prelude and My Name Is My Name.
The IG-shared contract excerpt, Victor told Complex, essentially shows Def Jam signing off on Pusha-T no longer being on Def Jam. "[He's still with] G.O.O.D. Music, he's just not signed to Def Jam anymore," Victor, who's worked closely with Pusha for years, said. "This is is his last album on Def Jam."
As for what the future holds, Victor noted that it's possible they could re-sign with Def Jam. Either way, Pusha remains with G.O.O.D. regardless of what comes next.
"I mean, we might re-sign with Def Jam, I'm just saying he fulfilled his contract obligation," Victor said. "He might re-sign with Def Jam, it's just the whole point of it is that he's still with Kanye regardless to wherever he ends up with his next projects. It will be with Kanye." Elaborating further, Victor reiterated that Pusha has indeed fulfilled his Def Jam contract.
"It might be with Def Jam, it might be with somebody else," Victor—who previously spoke with Complex for a separate interview about the upcoming NIGO album and more—said of a potential next deal. "But he's fulfilled his contract with Def Jam."
Pusha-T recently previewed new music amid Paris Fashion Week festivities.
Speaking with Complex, Victor also revealed that Pusha-T's "Yezos" nickname for Ye has actually been in existence for a while. "[Ye's] the richest Black man… at the time when [Pusha] started it, Jeff Bezos was the richest white man, so when he started calling him Yezos, it was because he's the richest Black man," Victor said.
Pusha-T and company clearly have big plans for the rest of the year. Stay tuned.