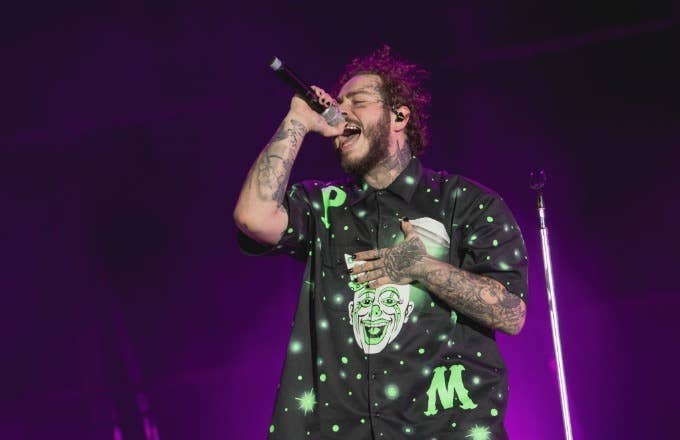 Post Malone was among those selected to contribute sounds to Travis Scott's inaugural ASTROWORLD Festival in Houston this weekend, to predictably envy-inducing results. In addition to its guitar-smashing high point, Malone's set was also notable for the fact that it was apparently at least partially fueled by a massive Postmates delivery of Chick-fil-A, a food establishment perhaps best known for constantly urging the nation to consume even more chicken.
La Flame and the Houston Rockets cheerleaders hit Malone with a "surprise delivery" of Chick-fil-A chicken tenders and a whopping 160 ounces of buffalo sauce, Billboardreported Sunday in an oddly serious tone. The Postmates delivery also included an estimated six gallons of sweet tea, marking a partnership made possible by CLG and Mac Presents on the ASTROWORLD Festival founder's behalf.
A separate TMZreport adds that the stout Chick-fil-A package was waiting for Malone in his trailer prior to his set. They also speculate that Postmates may have taken on the charges themselves, which makes sense considering Malone's proven history of spending thousands of his own money on the delivery app.
Both Billboard and TMZ claim to have the "exclusive" on all this, so you tell me which one is more exclusive-r. I don't fucking know.
Anyway, back in October, Postmates shared a whole damn Medium post about their understandable appreciation for Malone. They deemed him the app's "No. 1 most dedicated customer," noting that—by that point—he had placed more than 660 orders in 52 different cities for a total of more than $40,000 in just over a year.
In that spirit, if anyone at Postmates is reading this and wondering if I too might enjoy some surprise nourishment for $0.00, the answer is always yes. DM me on Twitter and let's make it happen.