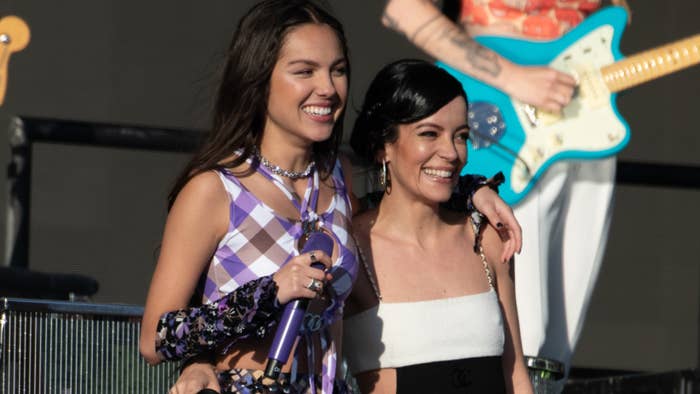 Olivia Rodrigo dedicated a performance of Lily Allen's 2009 single "Fuck You" to U.S. Supreme Court justices during her Glastonbury set on Saturday.
"Someone that I absolutely adore is here today," Rodrigo told the audience before bringing Allen, whose song was featured on her second album It's Not Me It's You, to the stage. As Allen fans will note, the song was originally written about former POTUS George W. Bush.
"It is a very, very special day," Rodrigo said on Saturday. "This is actually my first Glastonbury and I'm sharing the stage with Lily which is the biggest dream come true ever. But I'm also equally as heartbroken over what happened in America yesterday. The Supreme Court decided to overturn Roe v. Wade, which is a law that ensures a woman's right to a safe abortion and other basic human rights. And I'm devastated and terrified and so many women and so many girls are going to die because of this."
Rodrigo also named the justices Samuel Alito, Clarence Thomas, Neil Gorsuch, Amy Coney Barrett, and Brett Kavanaugh before she and Lily performed together.
"I wanted to dedicate this next song to the five members of the Supreme Court who have showed us that—at the end of the day—they don't give a shit about freedom," Rodrigo said.
See the full Glastonbury 2022 performance of "Fuck You" below. For info on how to support your local abortion fund, hit this link.