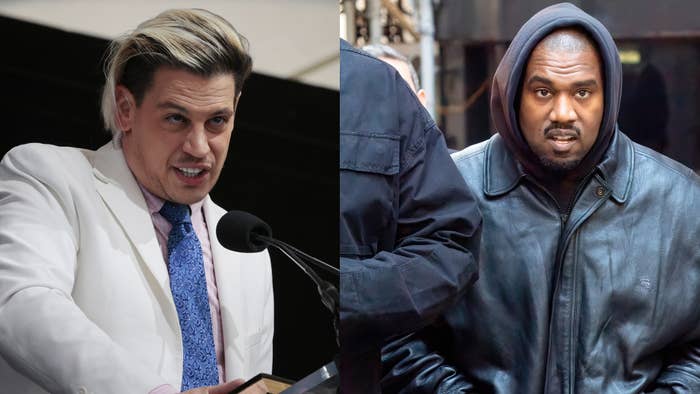 Far-right figure and former Breitbart News editor Milo Yiannopoulos, at least according to a new report, used a credit card connected with Marjorie Taylor Greene's campaign to buy an internet domain for the artist formerly known as Kanye West's latest presidential election effort. Yiannopoulos was then reportedly reimbursed for thousands of dollars above the actual cost, spurring a number of potential legal concerns highlighted in a detailed Daily Beast report and beyond.
The circumstances surrounding all of this constitute one hell of a convoluted mess, which is decidedly on-brand for all allegedly involved. Yiannopoulos has called the larger story surrounding the transaction "false," pointing to a "junior staffer" as being responsible for what he claimed was a payment error that has since been fixed.
At any rate, per Roger Sollenberger's report, the Greene campaign is said to have reported an expense of just over $7,000 last November to GoDaddy on the same day that Ye's 2020 committee is said to have reported paying Yiannopoulos just under $10,000. The reason listed for the latter payment, notably, was a "domain transfer." It wasn't immediately clear whether the larger Greene campaign had knowledge of the card being used for the purchase, which is said to have been for a currently parked Ye24 domain.
As for concerns spurred by this transaction, here's a sampling of possible alleged violations cited in the report: false campaign filings, converting campaign-related money into money used for "personal benefit," and theft.
On Monday, Politico reported that Ye's treasurer, Patrick Krason, had resigned. In a letter to the FEC, linked here, Krason said he had notified Ye's campaign of his resignation and had also made them "aware of the requirement to name a new treasurer within 10 days." Ye, whose career imploded last year amid a string of widely called-out anti-Semitic comments leading up to literal Hitler praise, has still not formally announced a 2024 campaign.
Though Krason did not mention Yiannopoulos in the FEC letter, he did name him in another letter sent directly to Ye, alleging—as highlighted by Jessica Piper here—that Yiannopoulos had "submitted falsified invoices."
While Ye's campaign isn't really worth anyone's time, it does raise a number of perplexing questions. Namely, what exactly is the relationship between Ye and far-right figures like Yiannopoulos? As the Daily Beast notes, the transaction in question happened the same day Ye had dinner with former President Donald Trump and white supremacist Nick Fuentes. Back in 2020, it was reported that Ye's "independent" campaign was actually aided by a number of GOP operatives, likely in a bid to divert votes away from then-candidate Joe Biden.
It's incredibility unlikely Ye will be a viable presidential candidate in 2024, so all of this can seem like a comical sideshow. However, both the 2000 and 2016 presidential elections were decided by razor thin margins, so a few thousand votes can swing an American presidential election.