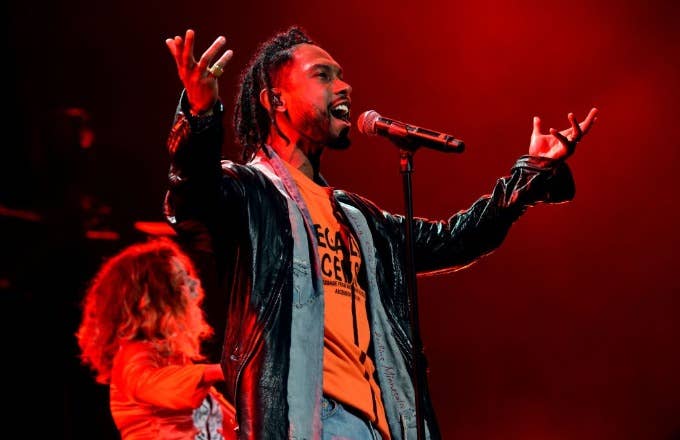 Prepare for some really dumb responses to the message Miguel recently sent out via a t-shirt.
As seen in a clip shared to his Instagram account Sunday, Miguel was spotted rocking a white t-shirt emblazoned with a tribute message to Nipsey Hussle, who was fatally shot outside his Marathon Clothing shop in Los Angeles last month. The simple phrase found on the left side of the t-shirt wonders how someone like Hussle, whose extended contributions to his community have been roundly celebrated, could be taken from this planet before a figure like Donald J. Trump.
"How Nipsey before Trump?" the shirt asks. Miguel posted and deleted an Instagram of himself in the shirt, which is similar to the one being sold on the website of a brand called freebeforeleven.
Miguel, of course, has thankfully never shied away from sharing his thoughts on Trumpism. In a previous interview with The Guardian published the year of Trump's inauguration, Miguel spoke on his approach to incorporating protest into his art. "I rarely do anything for no reason," he said, shouting out The Clash and Pussy Riot.
Nipsey Hussle (RIP) was also a vocal critic of Trump, famously linking with YG for the still-in-heavy-rotation collab "FDT," the acronym of which lays out a message we still very much need to hear even years after its initial release. In case you missed YG's Coachella performance of the track, catch that below: