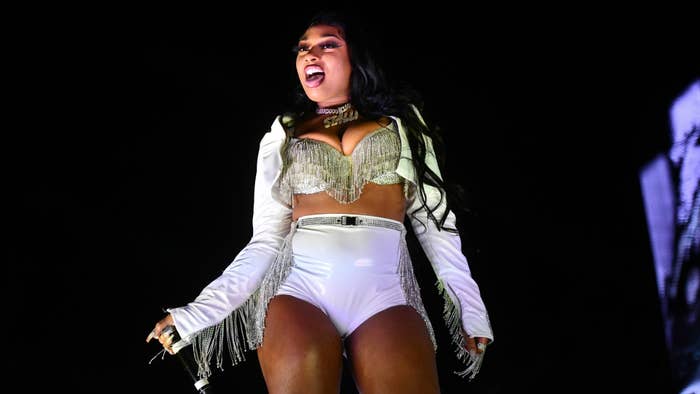 Megan Thee Stallion's Suga, her follow-up to last year's Fever, will be out this Friday (March 6).
On Wednesday, Megan shared the cover art and tracklist for the nine-track release, featuring guest appearances by Gunna and Kehlani.
The announcement arrives amid a litany of label-related drama, including a dispute with 1501 Certified Entertainment that took place after she signed a management deal with Roc Nation. A day after her dissatisfaction with the label relationship went public, Megan filed a lawsuit against 1501 and its head, Carl Crawford. Additionally, a judge signed a temporary restraining order, which made the release of new music possible. Crawford, meanwhile, has disputed Megan's assessment of her initial contract. Per the order, however, 1501 must allow the release and also "refrain from threatening or posting any retaliatory social media posts or threats" against Megan.
While Suga has been teased in the past as Megan's debut studio "album," it's not clear whether that distinction still stands. In a Rolling Stone interview last month, Megan teased a possible release date for May 2 in honor of her mother's birthday. And in an interview with Complex that same month, she elaborated on the personality traits fans could expect with the new persona that accompanies the project's release.
"Yeah, my debut album is going to come out in 2020," she said at the time. "I'm introducing a new persona called Suga. She's more sweet. She's a little more vulnerable. She's a fucking mess. But you know, we're going through it. But we getting through it."
A source close to the situation told Complex that Megan will release Suga and deal with the label issue "as it unfolds."