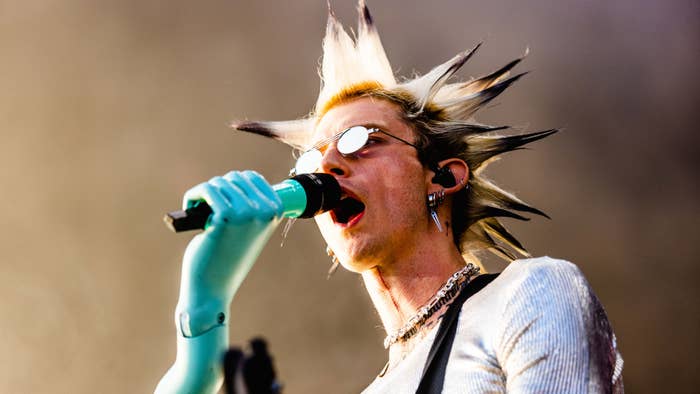 A Machine Gun Kelly fan who said they had traveled to the back-to-back Billboard 200 chart-topper's Rock Werchter festival set with hopes of getting punched was filmed getting their wish this weekend.
As seen in footage from the Belgium festival set on Saturday, MGK was first made privy to the fan's request thanks to a handwritten sign.
"Why do you want me to punch you in the face so bad?" MGK asked while between songs. "I got rings on, dude. That shit's gonna hurt. And if I punch you, obviously I'm gonna wanna punch the fuck out of you so I'm gonna feel bad. You're front row singing all the words."
Due to this, MGK added, he viewed the situation as a "lose-lose"—albeit one that he would place under consideration.
Deeper into the set, MGK made his way down to the barricade to interact with front row fans; it's at this point that he gave the fan exactly what they wanted.
"I love you!" MGK said after he gifted the fan a playful punch to the side of the face. The fan, as expected, was visibly stoked.
As for the handwritten sign, this is what it said:
"I just came from Mexico 4 u 2 punch me in the face"
When sharing a clip of the moment on Instagram, MGK joked that he was "making dreams come true" with the headlines-generating punch.
MGK is currently on a run of festival dates and is set to continue the streak with slots on the Mad Cool Festival, NOS Alive 2023, Ruisrock 2023, and more this month alone.
His most recent studio album, the Travis Barker-backed and Grammy-nominated Mainstream Sellout, opened at No. 1 on the Billboard 200 albums chart upon its release in March of last year. Two years earlier, MGK managed the same opening position with Tickets to My Downfall, his first No. 1 album.
More recently, MGK released a series of freestyles to YouTube. Below, see the most recent entry featuring Doe Boy.