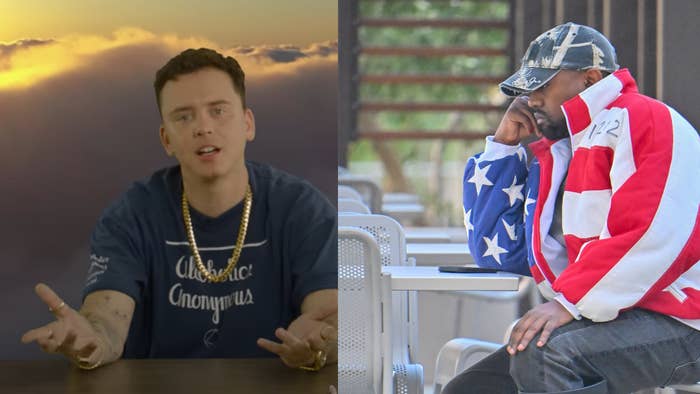 Logic has shared an extended message about the importance of "unapologetically being yourself," including—by point of comparison on the topic of impact—some remarks on the Hitler-praising era of the artist formerly known as Kanye West.
As seen in the YouTube-shared video below, Logic, in short, spoke at length about moving into a new phase of his career in which he's showing more and more of his true self across a variety of mediums. Some have met this approach with criticism, including—as Logic himself pointed out—complaints about the topics he chooses to discuss on his channels.
Per Logic, these complaints stem from people who could just as easily simply stop watching his content. He also highlighted the fact that—even though his content may not be for everyone—he at least hasn't taken the "evil" route of embracing a white nationalist ideology a la Ye.
"I think it's important to just be yourself," Logic said. "Unapologetically being yourself is the hardest thing you can do. As I transfer into this new phase of my career, it's kind of dope to realize, like, the more people talking about me—positive or negative—it's like, it makes me more rich. Only I'm not, like, evil so I'm not out here like, I don't know, spewing bullshit out of my mouth or wearing 'white lives matter' t-shirts or some dumb shit like that. Fucking moron. You know what I mean? Let's just be real. Love Kanye, by the way. Stupid fucking idea."
As you'll recall, Ye wore the shirt in question during the YZY SZN 9 show in Paris last October, as did Candace Owens. Fast forward two months and the once-revered artist was literally praising Hitler in an interview with Alex Jones.
Adding to his Ye remarks, Logic noted that he considers him to be "amazing" and "a genius;" additionally, Logic said, he "wouldn't be here without" the prior work of Ye.
"I would have not said something like that a few years ago," Logic said, explaining that earlier in his career he would have been worried about missing out on a Ye beat or feature. But these days, he would simply shake Ye's hand and "talk to him like a man."
The video also sees Logic making multiple mentions of Complex, largely of a derogatory nature. At one point, he imagines someone employed by Complex perusing the video from which this article is pulling, all in an effort to indeed pen an article about said video. That's what I'm doing right now. You're reading it. And as Logic himself suggests in the video, it is all of very little value to the planet.
At any rate, see more below.