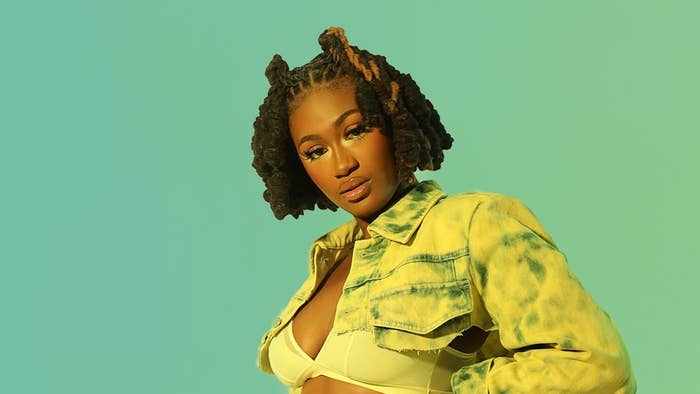 Kali's infectious song "Area Codes" is climbing the charts off the strength of its undeniable charm and viral lyrics like, "Got a white boy on my roster/He be feeding me pasta and lobster." First released back in March, "Area Codes" made its Billboard Hot 100 debut earlier this month, coming in at No. 54 on the May 20th chart. At the time of this writing, the 22-year-old rising star's track is sitting pretty at No. 33 on the Hot 100. We hopped on the phone to chat with the Roswell, Georgia-born artist and she told us about making the song in 20 minutes, how she never even heard the Ludacris and Nate Dogg song her hit shares a title with, and why she loves pasta and lobster.
"When I was making it, I was really having fun," said Kali, over the phone, about creating her hit. "I was having a conversation with my homegirl saying, 'We need that summer anthem, that vibe just makes you feel good and wanna be outside with your friends that everybody relate to." It only took me about 20 minutes [to record]. [I was] thinking about things that maybe haven't happened to me, but happened to my friends or I've heard. I didn't have to think too hard, when you have to think hard about records, those are never the ones that go up."
She went on to explain how the song's beat inspired the music video.
"I was writing and [the producers Tate Kobang and YG! Beats] were just beating on the table," she said. "It took me back to the school days when you would be banging on the table, rapping random stuff with your friends. Then I was like, 'Well, how should the beat go cause I've just been rapping the lyrics while I'm beating on the table?' [The producers] were like, it just literally needs to be what you're doing like that sound of boom clap, that's it. That's what inspired the video."
Indeed, the song's music video is high school themed and opens with someone banging on a table.
One of the most common reactions to the song is pointing out that it shares the title and lyrics with the 2001 hit by Ludacris and Nate Dogg. On Kali's hook, she raps, "I got hoes/In different area codes." On the 2001 song, Nate Dogg memorably sings, "I've got hoes, I've got hoes/In different area codes (Area), area codes (Codes)." But it turns out that wasn't Kali's intention at all.
"I didn't even know there was any connection," said Kali, who was born in the year 2000 and was a baby during the height of the Ludacris song. "Like, I never heard the Ludacris song before. So when people asked me that, I truly didn't know what they were talking about. It was just super organic. When I hear people saying, 'Oh this is a Ludacris homage' I'm like, 'Okay, but I really didn't know anything about it.' It was just like I literally felt like I got hoes in different area codes."
The key to the rise of "Area Codes" wasn't the Ludacris connection, instead it was the song's still-going-strong virality on TikTok. In early April, the opening lines from the track's first verse—"Got a white boy on my roster/He be feeding me pasta and lobster"—began inspiring some particularly memorable uploads.
"We were just like, what's the meal that sounds upscale, besides steak?" said Kali, about the viral lyric "Everybody loves pasta, and you know how they bring out super expensive lobster on a platter? That was the idea behind it. I love lobster, pasta and lobster is actually really good together."
The social media success is what let Kali know she had a hit on her hands.
"Every time I would get on TikTok or any social media platform, every other video was like, 'I got a white boy on my roster,' I couldn't not hear myself on social media," she said, adding that she has had a crush on a white boy before. "That's when I was like, 'It's out of here.' People would see me and be like, 'I love your song.' They started calling me 'Pasta and Lobster.' I don't know how much I liked that [Laughs.] but it just let me know this is the one."
She also reacted to some of the popular TikToks.
"I don't have a favorite TikTok [using my song], but I just love how all the teams are doing it together," she said. "I've seen a hockey video where they were like playing hockey and passing the phone. Even the guys are loving it, that makes me the most happy. The guys are tapping into it and making their videos."
To keep the momentum going, Kali released a series of regional remixes of the track this month with rising stars like Luh Tyler, Mello Buckzz, and Sexyy Red.
"I wanted to connect with people in different area codes," she said about the remixes. "It's not the official remix, but I wanted to hear how different people would come in different area codes. When I do go to those cities, they're basically like the person out there I can connect with."
For now, it's not clear whether "Area Codes" will wind up on a full-length album from the rapper. The success of the song might feel overnight, but she's been grinding for a few years now. Her most recent project, Toxic Chocolate, arrived in March of last year and was preceded in January 2021 with the self-released debut This Why They Mad Now. Though it's her biggest hit to date, "Area Codes" isn't her first track to garner attention. Other songs from her have amassed millions of streams on Spotify like "MMM MMM" with ATL Jacob, "Do a Bitch," and "Eat It Up."
Despite the song's lyrics, Kali assures she's currently more focused on her career than the men on her would-be roster.
"For me, I've had hoes before," said Kali, about if the song reflects her real life. "Do I currently? Uh, no, but maybe I will in the future. I'm playing a character, this girl that's outside, but some days that could actually be what I have going on. Currently, the roster is very empty. I'm not focused on any hoes right now at all, maybe in the future. I'm focused on making 'Area Codes' go up to the fullest."